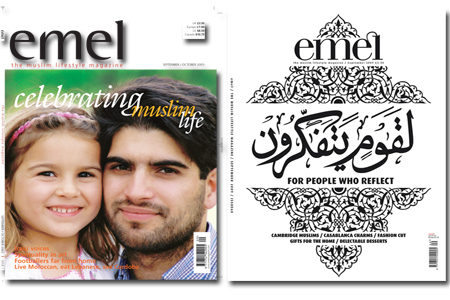 Celebrating Muslim Life
It is six years and 60 issues ago that we launched the first issue of emel. The creation of that first issue is imprinted onto my whole being and I can remember it like yesterday.
Taking the idea for a high quality Muslim lifestyle magazine from concept to reality was a serious challenge. It took the creative brilliance of a lot of people; people who shall forever remain in my heart.
There were many sleepless nights; and the lack of sleep became more acute the closer to deadline we got. What little sleep we did achieve was often on the floor of the emel office. For me personally, I would arrive home at dawn, sleep for an hour or two and then have my three children bound into the room energised by their full night's sleep.
In the end, the magazine was complete; every article was written, every photograph taken, every illustration drawn and it was all put together by the designers into the most beautiful product.
The next challenge was getting it to the printers. The printers were 350 miles away in Glasgow; and although the designers knew how to design there was one small skill's gap in their portfolio of talents. They did not know how to make PDFs. Now PDFs are what printers need to print. The solution? They took the whole, very large and heavy, computer to Glasgow. Once there, they slept on the floor of the printers, much to the surprise of the printer.
The magazine finally arrived. I can still remember ripping open the box in the back of the printer's delivery van. I can remember smelling it, as, just like the smell of a new car, the smell of new print has a power of its own. I turned every page with a slight degree of awe. And then – well, then, I picked it to pieces – seeing every mistake, every error, and desiring to make the next one better.
And I hope that there was a marked improvement between issue one and issue two; at least by issue two we had learned how to make PDFs...
Sarah Joseph
Editor, emel
Whilst some of the articles on Iraq mark a particularly place and time; most of the features are as relevant today as they were in 2003.
You can read all the articles from Issue 1 now>

Or click on the links below to enjoy some of the articles from the very first issue of emel>

TRAVEL: Cordoba: A Tale of Two Cities>
INTERIORS: Fragrancing the Home: Good Scent is Sadaqa>
ETHICAL: Recycling>
FINANCE: Islamic Home Finance: A Two Way Street in the UK>
FEATURE: The Talented Mr Gai Eaton
FEATURE: Post-war Iraq
FEATURE: Radicalisation the enemy within
HEALTH: Honey, honey
HEALTH: Are you anxious about your health?
GARDEN: Gardens Under Which Rivers Flow>
FOOD: Lebanese Meals in Minutes>
INTERIORS: Re-create the Moroccan Look in Your Home>
Watch the BBC programme about the making of emel
Share this


Link to this
Printer Friendly