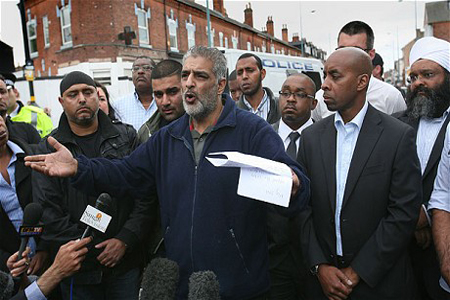 The Right Man at the Right Time
The UK riots caused the untimely death of three young men. Dr Joel Hayward takes heed of the wise words of Tariq Jahan, father of 21-year-old Haroon Jahan.

The United Kingdom has a new hero. He's not a warrior fighting on some distant battlefield. He's not a footballer or a cricketer who has dazzled us with athletic prowess. He's a quietly spoken 46-year-old Birmingham van driver named Tariq Jahan who sadly happens to be the grieving father of one of three young Muslim men killed in an apparently deliberate hit-and-run during the riots that threatened to tear apart many of our cities.
Tariq Jahan not only made a plaintive plea for calm on the night of his son's death, but, upon learning that a number of youths were planning to march through the city to protest the deaths, he subsequently made several inspirational speeches, surrounded by fellow Muslims as well as blacks, Hindus, Sikhs and others, that undoubtedly helped to calm inflamed passions that had the potential to transform the riots from wanton criminality and opportunism into racial hostility. No angry marches took place and Birmingham has gradually returned to a semblance of normality, albeit after nearly 500 arrests on the first nights and an estimated seven million pounds lost to the local economy.
Visibly distressed by his son's death, yet with remarkable fortitude and spontaneous and untrained eloquence, Mr Jahan spoke with a heartfelt conviction that politicians almost never succeed in conveying. Stretching his arms out to one group of Birmingham youths, he formed an immediate and visible bond when he spoke to them as their father: "You are the equivalents of my sons. I look at you as my brothers, my sons." Compassion and respect were evident in the eyes of young men who might otherwise have radiated a desire for retribution. "Look at your lives," he challenged, forcing many young men into awkward self-reflection. "It's only you who can change yourselves and your ways." Looking around at members of all Birmingham's ethnic groups, he added that "it would benefit all of us here."
Placing the onus of responsibility firmly on them, and not on the community's leaders, he reminded them: "You guys know in your hearts how good you are and how bad you are." He then emotionally added that his son's death would matter, along with his own exhortations of calmness, "if one of you here today walks away and changes his ways."
He told another audience gathered near the site where the three young men died trying to defend their community: 'Blacks, Asians, whites, we all live in the same community. … Why do we have to kill one another? Step forward if you want to lose your sons. Otherwise calm down and go home."
Mr Jahan was not the only cause of the relative calm that eventually returned to Birmingham, and he was not the only community leader of representative to speak about the need for calmness, cohesion and the value of unity. Members of the black, Hindu, Sikh, Christian and other communities all made similar speeches. The city authorities and the Police also worked hard to calm racial and ethnic tensions. They all deserve credit for their success in preventing escalation into the type of racial strife that has occasionally blighted British inner cities. Often seen as part of the problem instead of the solution, the Police actually found their presence wanted by fearful families who saw the evil within the riots.
Yet if any individual stands out for sheer quality and depth of character during this ugly period of violence and criminality, it is Tariq Jahan, a man who saw past his and his family's utter agony to bring to the streets of Birmingham – and as an example to all of us wherever we live – the type of dignified leadership that we sorely need. The sight of that good man, with tears in his eyes while he encouraged forgiveness, calm and respect for all the different communities that form the colourful tapestry of his (and our) cities, is something I will not soon forget. "Nothing can bring my son back," he said. "But if we have peace then he and the others will not have died in vain." My prayer is that the memory of those three young Muslims will live on through the continued tolerance and respect that Mr Jahan urged. That humble man has denied he is a hero. I respectfully wish to correct him. He is mine.
Dr Joel Hayward is Dean of the Royal Air Force College, and is an author and poet. These are his personal views only.
Share this


Link to this
Printer Friendly