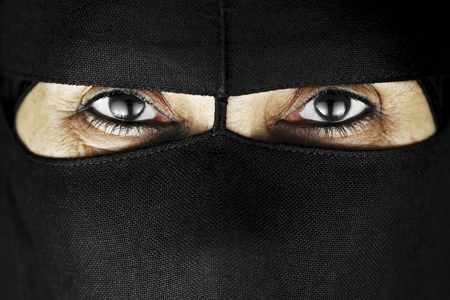 A Thousand Stories & Other Pictures
Issue 65 February 2010
The title of his website, www.exactish.com, reflects his humility and the kind of person he is: sure-ish; certain-ish; there, but not quite. Faisal Almalki is a quietly spoken young man who, like Alice in Wonderland, one day found himself in a fantasy world of prizes and awards. This rising young Saudi photographer is a regular visitor to the UK, where Mahmud Al-Rashid caught up with him during Eid al-Adha.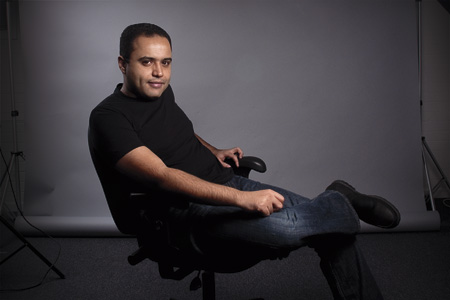 Faisal loves London and he loves the people here. Give him a chance to visit this bustling city and he will jump at it. He first came to the UK aged 10 months with his family. However, Faisal's independent travels to Britain began in 1991 when he was 15. "I came with my sister to learn English. We stayed with a family in Brighton for a couple of months every summer. I got on so well with my 'English mother' – who had three young children of her own – that I have maintained contact with her ever since. Her name is Tika Sly, and I remember she cried the first summer after we left. I still visit her in Brighton and we stay in contact via the internet.
Faisal studied Marketing at the King Fahad University in Dhahran. "It's a fantastic university," he recalls. "I studied marketing, which combined arts with business. After graduating, I worked in advertising for seven years." Then he moved to the marketing department of a private investment Bank in Riyadh. His interest in photography was aroused about five years ago. "I used to post my holiday snaps on a Canada-based website, just for fun really. Pictures of Florence and Los Angeles were two of the early ones. I had no plans to become a serious photographer. Then, to my total surprise, I won the website's Photograph of the Month, and at the end of my first year they ranked me No. 1 out of five thousand photographers! That was truly amazing."
What is apparent in Faisal's meteoric rise is the eager assistance he has had from others in the world of photography. "One of the first photographers to support me was a woman called Terri Dow. She is an American living in Margate, UK. Her constant online support was encouraging and inspirational, and even before meeting me she felt I was going to be a big star."
In 2006, Faisal started planning a trip abroad for his first photographic expedition. He wanted a location that would give him a wide range of subjects – modern and classical buildings, street photography, beautiful architecture.
"I also wanted a location that had many exhibitions of great photographers. So I chose London." In early 2007, Faisal spent six weeks taking over 12,000 pictures with his Canon 350. "I was photographing anything and everything. I was teaching myself – that's how I have learnt, together with tips from magazines. I have never had any formal photography training, even to this day," Faisal explains, giving hope to many a budding photographer.
"During that trip in 2007 I went to meet Terri in Margate to thank her for her support. It was wonderful to meet her in person, andI visit her every time I come to the UK. She has become my 'photography mother'," Faisal claims proudly.
In his first year of photography, Faisal mostly shot still life, but during the London trip he decided to try street photography.
"That experience was a real eye-opener for me. It changed everything and I looked at photography differently." Also during that trip Faisal met a fellow enthusiast called Jan Schuyler who instilled the idea
of going beyond websites and deploying exhibitions, magazines and competitions for his photographs. "Jan also bought me the kindest gift – a subscription to the Royal Photographic Society. This membership broadened my horizons and opened up many other possibilities."
Back home in Riyadh, Faisal began to devote all his free time to photography with newfound enthusiasm and zeal. He began to enter competitions and was delightfully shocked when the Photographic Society of America accepted five of his photographs. In the same year, 2007, Faisal won a first prize and 21 certificates of achievement in the annual International Photography Awards in New York. "I was 30 years old and all these awards gave me a lot of confidence and reassurance. It was then that I shared my passion with my family and they were immediately overjoyed, especially my mother." Faisal is the youngest of eight children, and with 16 nephews and nieces, that supportwas extensive. Even the family driver was enthusiastic, bringing Faisal magazine articles and photography websites.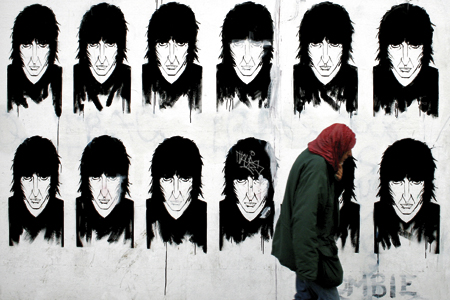 A photograph he took during his London expedition was titled '1 of 12'. He was walking down a street in Notting Hill when he saw tens of identical faces drawn on a wall. "I had this image in my mind of a particular picture and waited and waited until the right character walked past. I took a few shots, and that was it." It won 1st place in the International Photography Awards in New York. However, his all-time favourite photograph is called 'A Thousand Stories'. Faisal explains the background. "One of the websites announced a competition, the the me of which was 'The eyes are the window into the soul.' It caught my imagination and I drew a sketch of just a pair of eyes. I asked my family to help find a woman who would pose for me. At the end of three weeks we could not find a single willing person, so I decided to give up and not enter the competition. Then, a few hours before the deadline, my mother walked into the living room wearing a burka and announced she was ready to be photographed. I was shocked out of my despondency, and immediately objected to photographing her – my mother! But she was adamant, and she knew how much I wanted to take this picture of 'the window into the soul'. After further internal struggles I eventually relented and I set up the lights and camera.
The first few shots were lifeless and she began to worry that my efforts would be in vain. I kept telling her it wasn't working and she worried even more, until there was this intense expression in her eyes – which is what you see in the final shot." In 2009 this picture won Faisal more awards than any others did, and the reason, he explains, "may be because the burka is perceived as inhuman; destroying a woman's identity and personality. Whereas this photo shows that the burka can cover your face but not your life or soul; it's all in her eyes; eyes in which I could see a thousand stories."
To enjoy the rest of this feature, get your latest issue of emel magazine >Read Below<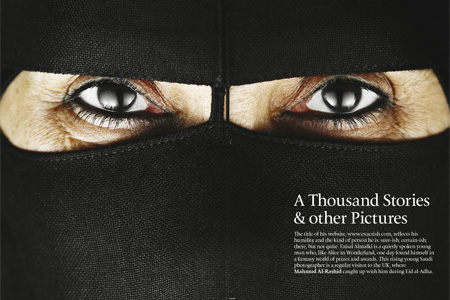 1) Delivered to your door for only £3.50 with FREE Postage and Packaging
You can get your latest issue of emel with FREE Postage & Packaging.
Click here for terms and conditions
Call us on 020 7328 7300 or email info@emel.com.
2) Find your Local Stockist
Your latest issue of emel is also available in stores nationwide including WHSmith and Borders.
3) Subscribe for one year - now only £29.95
You can subscribe for only £29.95 (that's 50% off the standard UK subscription price) and get 12 issues delivered straight to your door, every month..
Call us on 020 7328 7300 or email info@emel.com

Share this


Link to this
Printer Friendly