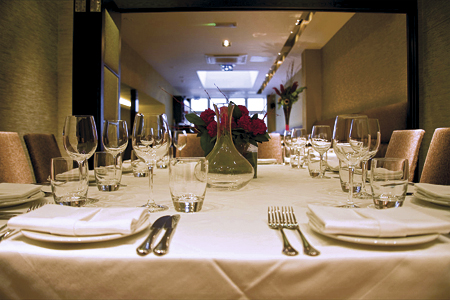 Food - Kennington Tandoori – Indian cuisine
Issue 77 February 2011
Review by Henrietta Szovati
I am always weary of restaurants with long menus. I am a fan of Gordon Ramsey on this one, who thinks that less is more and complicated menus are only there to compensate the chef's inability to come up with authentic and innovative food. When we walked into KT on a grim Wednesday afternoon, I felt slightly drawn into fear when I looked at the eight page menu. A few hours later, I was convinced that Gordon Ramsey was right but I also learnt that I need to keep an open mind about menus.
The KT is a popular place for politicians and celebrities, although the modern and sophisticated look did not lure me into submission (the humble garlic prawn did, a little later). Waiting for a selection of small dishes, I browsed through the menu that took us on a journey not only in India's landscape but back in time. Dishes from the Moghuls were listed and this is certainly not the taste of boring Indian food. The salmon tikka and the slow-cooked lamb in ginger and garlic was a delight, the puri bursting with flavour and the beetroot samosa were cheekily winking at me. You are never bored in this place.
The flavours, the curiosity and the exciting menu (that changes monthly) only intensifies the owner's passion for food and innovation. An absolute must on your Great Restaurants list!

Kennington Tandoori - Indian Cuisine
313 Kennington Road, London, SE11 4QE
Share this


Link to this
Printer Friendly