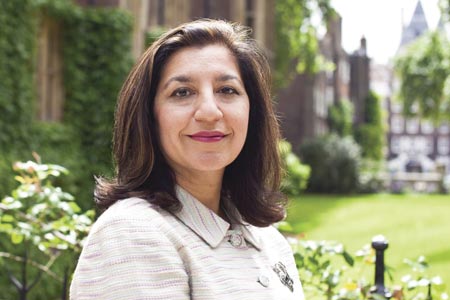 A Week in the Life of Aina Khan
Issue 85 October 2011
Family Law specialist Aina Khan has recently launched the unique Islamic Legal Services division at leading law firm, Russell Jones & Walker.
No two days are the same for me, and that is just the way I like it. I chose to specialise in Family Law because I enjoy handling different challenges every day and I am passionate about coming up with innovative solutions to difficult legal problems.
Having specialised in complex legal issues ranging from finance to children to, international divorce, I found many clients increasingly asking for Islamic Law solutions. For over fifteen years, I have provided them with outcomes that are valid under English Law as well as complying with Islamic Family Law. I ran my own busy firm for 14 years and then became a consultant. Seeking to grow my Islamic law specialism, I recently joined Russell Jones & Walker, a leading UK law firm with headquarters in London's Chancery Lane. They are nationwide solicitors with nearly 500 employees and offices in every major city, so my workload is a varied one. I could be advising clients in London one minute, or be on video link to a client in Manchester, then speaking to a journalist abroad the next.
As well as handling complex financial settlements (including one for £20m), family trusts including property owned with parents or siblings, and the most difficult of children's cases, I have a team specialising in Islamic legal services, ranging from Islamic divorces granted by Shari'ah Councils to Muslim mediation. This week I am handling several cases of women recovering their mahr (the financial settlement given in their nikah) from husbands who refuse to give them their Islamic rights on divorce. The mahr can be large lump sums, valuable wedding jewellery and/or property. It is rare to use UK law to enforce these contracts, but I am pioneering the way forward and where appropriate, I also want more women to claim their rights when English law cannot help them (for example, where their marriage is not recognised under UK law as they have only had a nikah).
My working life is incredibly diverse, and involves everything from conducting challenging court hearings to writing lectures to postgraduates at leading universities. I have also been called upon this week to provide expert commentary for a variety of print and broadcast media — as a guest on BBC Radio 4's Woman's Hour debating with Baroness Cox about her new Bill affecting Shari'ah Councils. I am asked to speak at meetings and debates at the Houses of Commons and Lords, and meet regularly with key opinion makers in the Muslim community, from liberal to progressive, to conservative. At the same time, I make sure I am up to date with case law and the latest developments worldwide, as there are undoubtedly many misconceptions about Shari'ah law. Most of my work comes by word of mouth from satisfied clients or from people who have read about me on the internet.
I have joined Russell Jones & Walker because of their reputation. It is an unusually progressive firm with a real desire to meet the needs of Muslim clients — I feel right at home! They have supported me fully in this new venture. We had a wonderful launch for the Islamic Legal Services division recently, with a contemporary Islamic art exhibition, which was attended by over 150 enthusiastic well-wishers.
This hectic pace is possible because I have an immensely supportive husband who encourages me to keep going — he tells me I am like a surgeon, and that stops me flagging when I am tired out. I have a daughter aged ten and a son aged seven and I have always tried not to have more than one evening away from them during the working week. I have also made sure I attend every sports day and spend as much time as possible with them, which is one of the great joys of my life.
No matter what my workload is like, weekends and holidays are for the family, with the BlackBerry firmly switched off (most of the time!) I am lucky to have such fabulous in-laws too; they are an incredible daily support. Knowing my children are happy with them when I cannot be there gives me the energy and motivation to keep going. The law is a force for both order and genuine good; there is nothing better than knowing, before I turn out the light and go to sleep, that I have made a real difference to someone's life that day.
Share this


Link to this
Printer Friendly