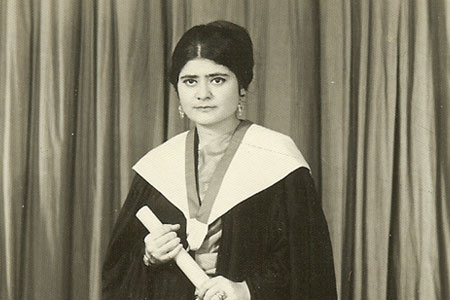 Changing Landscapes
Issue 85 October 2011
When Dr. Yasmin Anis first arrived in the UK, she found herself openly talking about religion in the workplace. Now, she is fearful of the culture of suspicion and mistrust that her grandchildren will grow up in.
I was born in Allahabad, in Uttar Pradesh, India. Later, my whole family moved to Karachi in Pakistan. My husband, Abu Baker, was born in Patna, and in 1967 his family migrated to Karachi, which is where we met after medical school, during our time as house officers. We wanted to come to the UK for further education and training. Abu had a friend in Oldham who invited us to come over. Our intention had been to return home after gaining sufficient qualification and experience. Abu came to the UK first; I remained behind in Pakistan because I was pregnant with our first baby, but I joined him a year later in 1970. The prospect of coming to England was quite daunting, but it was made easier by the fact that Abu was already here. Nevertheless, I was still excited at the opportunities that were available.

I managed to get a job in obstetrics and gynaecology at Leicester General Hospital, whereas Abu was a senior house officer at Oldham General Hospital. For eight months, we would visit each other during alternate weekends. We were young doctors in a new country pursuing our dreams, and life was very good. I encountered very few problems from anyone. Often, I would catch the last train out of Manchester to come back to Leicester and would walk to my home at night, without any fears or worries.

In those days, people seemed to be very understanding of religious practices. For example, we would do our prayers in a quiet corner and no one would say anything. Nowadays you have "quiet rooms" or "prayer halls" everywhere, even in shopping centres, but that has not helped remove ignorance, nor created harmony. People used to talk openly about religion, and I remember freely having discussions with my colleagues on Abraham and Jesus and Moses and Muhammad and observing their reactions when they realised the common ground between these great religious leaders. But in these times, and especially after 9/11, I find it very difficult to talk about religion and religious values. There seems to be an air of suspicion and mistrust everywhere, and Muslims are viewed through the prism of terrorism and extremism.

There were not many halal food places in those days and we had to search around. But I remember during Ramadan, the chef at the hospital would cook food especially for me during suhoor and bring it to my room; likewise for iftar he would do the same. There seemed to be a greater degree of tolerance—even though people did not know much about Islam the religion, they nevertheless respected our ways, and accepted differences in a gracious way.

After eight months, I moved to Oldham to work in the same hospital as my husband. There were some other Pakistani doctors in the hospital and we formed a good group. The Muslims in Oldham were mainly from Bangladesh with some Pakistanis. I did witness some racial tension in Oldham, but it was not violent. I remember on one occasion seeing a white man walk past a Bengali woman and make a derogatory remark at her. I went up to him and told him that she didn't answer him back because she did not understand what he had said, but if he wanted to say something he could say it to me. The man apologised and walked away. I have always believed that wrongdoing needs to be confronted and not passively accepted. You can never change anything bad unless you are willing to challenge it, at some personal risk if necessary.

People respected us as doctors and, of course, the Muslim community held us in very high regard. However, I remember when I first moved to Oldham I worked under a consultant who made my life hell—not because I was a woman, because she did not have problems with other women doctors, nor because I was Asian because she had no problems with other Asians, but because I was a Muslim. She was 6'2" tall and would march at speed, and when I could not keep up with her, she would comment that I was being a typical Muslim woman walking 20 paces behind. At one Christmas party, when I refused to drink wine, she remarked, "You don't know what you're missing; how can your religion not allow any enjoyment in life." I did not really expect this from a highly qualified professional person. I think she just had a very negative attitude towards Muslims, probably because we could not be "like them," unlike, say Hindus, who integrated socially in every way possible. I still see this in my profession, where many young Muslim doctors have a set of values (like not drinking or freely dating) that makes it difficult for them to be 'integrated'.

Sometimes, people's attitude towards me was a little condescending. I remember going to a women's meeting and everyone was given a form to fill, but in my case a woman came up to me and asked whether I knew what it said. I replied yes, and she then asked whether I could fill it in. I again replied yes, when she asked whether I was sure. I think she just assumed that as a foreigner I would invariably need help. Sometimes, the prejudice is quite startling. Recently, a white man came to my surgery and said that he had been treated by a "blackie" doctor before, but she had spoken in perfect English and sounded "just like us," unlike me, because I have a slight accent. I explained to him that she was probably born and brought up in the UK and was as British as any white person. But he was disconcerted that someone of a different colour could sound just like him. "I couldn't take it," he kept saying. I think he was struggling with his own identity. He was more used to accepting people of different colour sounding different, but he felt threatened by a black person sounding just like him.

Despite society being less tolerant of Muslims, I believe there are much greater opportunities for educational and professional advancement in the UK—up to a point. We have three children who have all been to universities. One is a dentist, one a doctor and the other a solicitor, and they are married to, respectively, a doctor, an accountant and a computer scientist. But I think for my grandchildren the challenges will be greater. They will face anti-Muslim prejudice from school onwards. Being a professional can act as a form of protection, but getting there will be harder for their generation. I put this down to the post-9/11 culture of suspicion and mistrust. I would like it to be how it was when I first came to this country—when people were more open-minded and respectful of differences. Ultimately though, when I think about my migration to Britain, I have no regrets. I have enjoyed my time here and benefitted a great deal—but I have given a lot back too.
Share this


Link to this
Printer Friendly