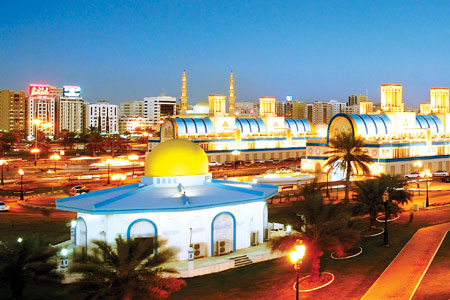 The Enlightened Emirate
Issue 92 May 2012
Often forgotten in the shadow of Dubai, the emirate of Sharjah can be just as entertaining for the more conscientious tourist, as Ali Khimji found on his trip.

It does not seem particularly fair to Sharjah to start a travel feature talking about Dubai. But it is unavoidable to an extent. After all, Dubai has a global reputation for being a great holiday destination, with sun, sea, sand and shopping, which makes up the four Ss that most tourists are after these days. Why would anyone want to visit the emirate next door, which is known for being the place where many of the labourers from Dubai opt to live in because of cheaper rents?

However, as Dubai became the global shopping hub and went through its own financial crisis, Sharjah concentrated on branding itself as a culture destination. Much of this is down to Sheikh Sultan bin Mohamed Al-Qasimi, the current ruler of the emirate, who is an academic and historian in his own right. Under his patronage, Sharjah has continued to live up to its accolade as The Cultural Capital of the Arab World, awarded by UNESCO in 1998.

My journey to Sharjah began with an Emirates flight into Dubai. Sharjah has its own airport, but this is mainly served by Air Arabia, the low-cost airline that flies across the Middle East. For those travelling on a budget, Air Arabia flies as far as Istanbul and Kiev, so if you choose your flight paths diligently, you may be able to travel there for less than £200. Sharjah is only 20 minutes drive from Dubai, however this is outside rush hour. As many people live in Sharjah and work in Dubai, the road between the two emirates can take as long as an hour and a half to get down during peak times, so plan your flight times accordingly.
Share this


Link to this
Printer Friendly