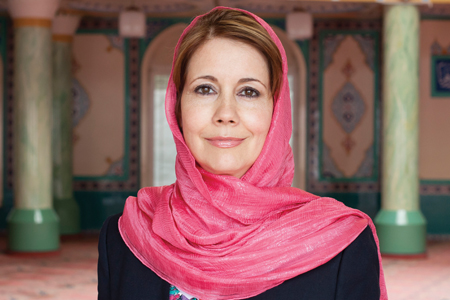 In Search of Love
Issue 96 September
Kristiane Backer has experienced the glitz and glamour of showbiz, the despair and misery of rejection, and the comfort and elation of faith. Her new book charts her journey "From MTV to Mecca". Zéna Butt went to speak to her at her home in Chelsea.
It is hard not to admire Kristiane Backer; after all she has interviewed some great musicians of the modern era—and she is on first-name terms with many of them to this day. She was the most well-known video-jockey (VJ) on MTV Europe in the 1990s, and she lived the so called 'high-life'—hanging out with celebrities, being flown across continents, obtaining free backstage passes to concerts, frequenting the most popular nightclubs, and being invited to the most exclusive parties.

Kristiane was fully immersed into the A-List celebrity society of her time. She could liaise with U2 front man Bono about world issues, speak to Mick Jagger for relationship advice, and joke with Bob Geldof in her spare time. And this is alongside presenting awards at the prestigious MTV Video Music Awards (VMAs), and interviewing stars such as Lenny Kravitz, Annie Lennox, Prince, East 17, and Dannii Minogue amongst many others.

Though some may know Kristiane for her services to popular culture, others will remember her for her high profile relationship with Pakistan's cricketer-turned-politician, Imran Khan—a relationship that changed the course of her life forever. Her life had been studded with glitz, glamour, heartache and intense self-exploration, which in turn metamorphosed into the most amazing case of self-discovery. Kristiane charts her extraordinary journey from world renowned MTV VJ to devout Muslim in her memoir From MTV to Mecca: How Islam Inspired My Life—a journey that she deems as depositing her into her present state of "inner-tainment, instead of entertainment".

Read more
Share this


Link to this
Printer Friendly