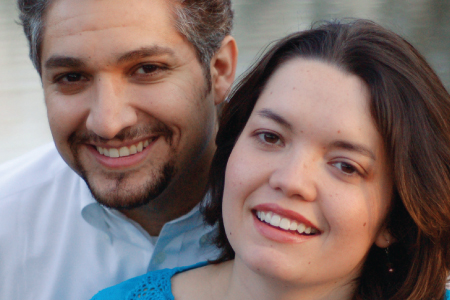 An Interfaith Relationship
Issue 96 September
When Joanna, a Christian, and Fadel, a Muslim, decided to embark on marriage, they never would have expected that their cultural differences outweighed any religious issues.
Joanna
I met Fadel at a wedding in 2005. I was a friend of the bride and he was a friend of the groom, and when I got up from my seat to go and mingle with some of the other guests, I came back to find Fadel sat in it. We started talking, after he got out of my seat of course, and I found that we had an immediate and natural connection, and ended up talking through the evening. I also thought he was quite handsome—I remember looking at his salt and pepper hair and thinking, "Who invited Richard Gere?"
We exchanged phone numbers, but I didn't think we'd stay in touch for long. But one phone call led to another, and we eventually began to email, chat online and visit each other on the weekends. My family is Christian, but it has never been in our practice to shun anyone who isn't Christian, so no one seemed to mind that Fadel and I were seeing each other. He's certainly made it easier for himself by being so loyal, thoughtful and caring. I know if he were Christian, it would be easier for my family, but even within Christian families there are issues between denominations, such as Catholic and Protestant.
Fadel
Before meeting Joanna, I had been thinking about getting married for a while. I kept wondering what it would feel like to get married, but I was in no rush to get married. On first impressions of Joanna, I saw a strong, yet gentle woman. As we chatted that evening, I found myself wanting to get to know her better. I had some doubts, but I decided to see how things would develop for themselves before making any rash decisions.

From there, we took things one day at a time, as we learnt more about each other and built our relationship. We enjoyed going to the movies, fine dining, and taking road trips around Texas, her home state, where she showed me around. We lived about two hours away from each other, so would only see each other on the weekends, but we made sure to speak on the phone during the week. Soon after we met, Joanna moved to Mexico for a few months for an internship, which was a challenge for us, but it also made me realise what I was missing when she was away.
Share this


Link to this
Printer Friendly