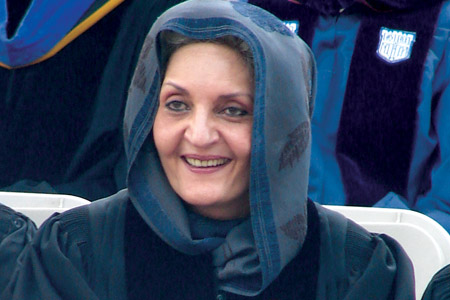 Educating Women
Issue 97 October 2012
The education of girls has been a delicate issue in Saudi Arabia, but Faisal overcame resistance with courage and patience. Princess Lolowah Al-Faisal reflects on his legacy.
"King Faisal would treat all people, whether strong or weak, with equality." Shaykh Ali Abu Saq, Tribal Head
The role and place of education in any society is a constantly evolving matter. It is about the development of the individual to their full potential, for the advancement of society and humanity as a whole. Contrary to ill-informed critics, we in Saudi Arabia have very good reasons to be justly proud of our educational system, and excited about the prospects for our future. On the foundation of the Kingdom 80 years ago, there were only a handful of primary schools, and a few hundred pupils. We now have more than 25,000 schools, and some five million students—almost half of whom are girls. In colleges and universities, girls account for about 40% of the students. Presently, about 5,000 students—male and female—are studying at universities overseas on four-year scholarships that include tuition fees, living expenses, and a monthly stipend. Therefore, I can justly claim, that in such a short time-span, Saudi Arabia has made immense strides in the education of its citizens, especially of women.

This achievement is the legacy of His Majesty King Faisal, with the full encouragement and enduring support of his wife Queen Effat al Thunayyan. Their vision and effort is the reason that now almost 7% of GDP is spent on education—one of the highest ratios in the world. Queen Effat provided the passion and determination necessary for the advancement of women's education against the prevailing tradition, whilst the King implemented the necessary policies and provided the essential finances—even during hard times, and even before he became King in 1964. His interest in women's education began when he was deputy ruler of the Hejaz, during the reign of Abdul Aziz, and continued as Crown Prince, and Prime Minister. His commitment was unwavering, as a consequence of which generations of Saudi men and women have reaped the considerable socio-economic benefits of the visionary course set by Faisal and Effat.
Share this


Link to this
Printer Friendly