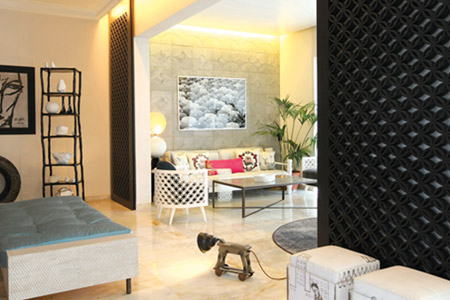 Geometry of the East
Issue 98 November 2012
From the Far East to the Middle East, Nada Debs' designs are a harmonious fusion of East and East meeting contemporary and clean cut design. Fatema Zehra speaks to Beirut's darling of interior design.
Perfectly marrying together cutting edge design and intricately beautiful patterns, Nada Debs has earned status as a leading contemporary designer. Debs was brought up in Kobe, Japan, where her family has been living for three generations and are firmly rooted in the textiles trade. She studied at the Rhode Island School of Design in the US and worked in London for seven years before moving back to Beirut in 1999. Her eclectic mix of cultures is testament to her individual take on craft and design. Debs combines the highly decorative Middle Eastern tradition with the pure and sleek shapes of Japan. Debs has been quoted to have referred to her work as 'East and East', stemming from her Middle Eastern and Far East background. At the heart of her craft, Debs maintains an ever-present notion of preserving one's cultural roots.
The Nada Debs brand began almost as a happy accident, with Debs creating pieces for her own home, without the intention of launching a company. Debs reveals, "As time passed and people were responding positively to my designs, and as my designs started to have a strong distinct identity, I felt that I had to brand it in order for consumers to understand the story and the reason behind what I do".
With a unique merging of old and new, Debs quickly built a name for herself in the world of interior design. She has been involved in a number of well known projects such as the revamp of Fakhreldine restaurant in London, the interiors of Liza restaurant in Paris and accessories work for the W Hotel in Qatar, to name but a few.
Share this


Link to this
Printer Friendly