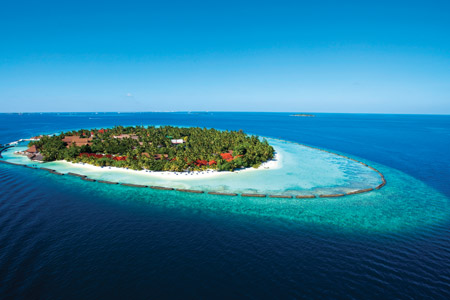 Picture Postcard Beauty
Issue 98 November 2012
The Maldives is often advertised using images of white sandy beaches, blue lagoons and exotic coral reef.
But nothing prepares you for the exhiliration of actually seeing them, as Ali Khimji found on his recent trip.
n 3rd October 1972, Kurumba, the first established resort in the Maldives, received its first paying guests. This date can be marked with a certain level of auspiciousness, as it was when the world was introduced to the tourism appeal of the Maldives with its stunning beaches, pleasant temperatures, and incredible natural beauty. Since that day, tourism in the Maldives has grown to be the largest industry; 28% of the GDP and over 90% of the government's tax revenue come from import duties and tourism-related taxes.
We travelled to the Maldives at the beginning of October, which coincided with the end of the monsoon season. I was a little apprehensive before we left because I had checked the weather forecast to find that rain was predicted for the whole week that I was there. However, I was told that the forecasts weren't necessarily known to be the most reliable for the Maldives, and even if it did rain, it would last barely an hour and the weather would clear up very soon after. Naturally, I packed a raincoat just to be on the safe side.
Getting to the Maldives from London is relatively straightforward, but there aren't any direct flights, so you'll have to fly via Istanbul, Doha, Abu Dhabi, Dubai or Colombo. When arriving at Malé International Airport, the queues at the immigration counter can be quite long, so it's best advised to get off the plane quickly and try to get to the front of the line. But once you get out of the airport, you'll still have one more, but very unique, journey to make.
The Maldives is made up of two rows of atolls in the Indian Ocean, just across the Equator. There are 26 atolls in total, each forming a ring shape with a coral reef encircling it. Within this, individual islands can be found and there are 1,192 of these. Only 200 islands are inhabited, with the rest being used for agriculture or other livelihood purposes. As a tourist destination, the Maldives is unique in that only one resort will be found on any given island, as opposed to having numerous resorts squashed onto one piece of land, and there are around 100 resorts within the country.
Share this


Link to this
Printer Friendly