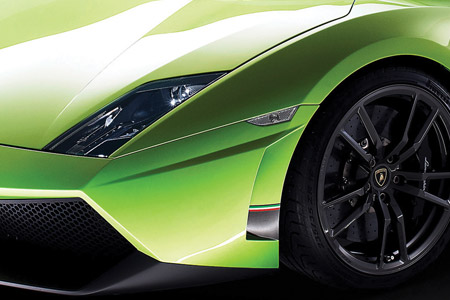 An Exhilarating Ride
Issue 98 November 2012
There aren't nearly enough superlatives to describe the Lamborghini Gallardo Superleggera, as Fazeel Ashraf discovered.
This car needs no introduction. One look at the images will leave you in no doubt that you're looking at something rare. Its presence is colossal; a melee of scoops, vents and carbon fibre. The intensity of the aesthetics is unrelenting with every last millimetre of sculpted angles helping achieve its supercar stardom. I have driven some fast and wonderful cars in my time but not one of them come close to the look of the (take a deep breath) Lamborghini Gallardo LP 570-4 Superleggera. Can other super car manufacturers please take note—a supercar should be brash, impractical, make you feel like every nerve in your body has been smashed in by a sledgehammer, and all of them should be in bright, lairy, immodest colours just like the Superleggera.
For all of the fireworks the Superleggera promises to deliver, climbing into the cockpit doesn't instantly make you feel acquainted with the vehicle. It feels like you need to ease into the world of the raging bull as you realise how low you are actually siting in the embossed Alcantara seats and your rear view is compromised with the already tiny window being partially blocked by the carbon fibre spoiler. Bringing the engine to life, a variety of sounds start erupting from the quad exhausts as the dash lights up like a switchboard before settling down to a raspy tune. Depress the right paddle shift and with a small dab of the accelerator the car unceremoniously starts to edge forward without any drama. The gearbox makes a clunk as you move into second and the mammoth V10 engine inches behind my head starts to be rouse. Pootling along with the morning traffic soon makes you realise that the Gallardo is surprisingly easy to drive; maybe even easy enough for my wife to drive—though good luck to her in trying to prise the keys from my hand. Yes, every stone and road imperfection manages to vibrate through to you and your seat, but no one said it was going to drive like a Rolls Royce.
Green Car Wrap https://www.nascarwraps.com/collections/green-vinyl-wrap
Share this


Link to this
Printer Friendly