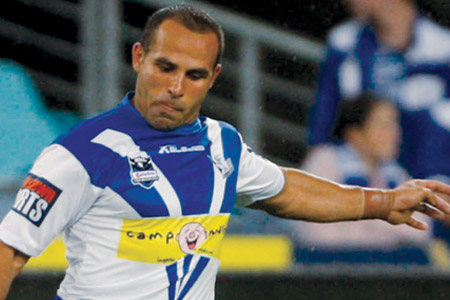 Kicking for Glory
Issue 98 November 2012
Hazem El Masri has been held up as a role model for young Australian Muslims after enjoying a successful career in rugby league. He speaks to Ali Khimji about what that means in the sporting world today.
In modern sports, it's now pretty much the norm for athletes to move around between clubs, with many choosing teams that offer them the highest wages. Some football players have turned out for over ten clubs during their short careers, and the one-club men, although well known, are being pushed into the minority. But generally those one-club men, such as Lebanese-Australian rugby league player Hazem El Masri, tend to have the more successful sporting careers.
Hazem was born and raised in Lebanon but emigrated with his family to Australia in 1988 when he was 12 years old. "It's always difficult for anyone moving from one country to another, the different language and the cultural differences make life a bit hard in the beginning," he says. "But we took it one step at a time and Australia is home now." He had started out as a football player, but moved to rugby league as a result of family influence. "The first time I touched a rugby league ball was at a family barbecue, my cousins handed me a ball and said all you have to do is grab the ball and run all the way to the other side without anyone touching you," he tells us. "I said that's easy and from there it started. I loved playing soccer but even more so rugby league. I was playing at school and on weekends with friends."
He took up rugby league seriously in his final year of high school and started playing for a local junior club. "I was lucky some Bulldogs selectors were at a few of the games I played in and I was consistent enough to get picked to play for them," he says. From there, he made his debut for the Bulldogs in the 1996 ARL season and became a regular member of the squad from the 1998 season, when the Canterbury-Bankstown Bulldogs were playing in the National Rugby League.
Throughout his career, Hazem has been held up as a role model for young Australian Muslims, with his own Muslim identity being of great interest to the Australian media. "For many years and until the final year in my career it was something the media never failed to mention," he says. "My faith is something others find fascinating, but to me it is the core and centre of my life and is an active element in everything I do publicly and privately. Being a high profile sportsman and the first Muslim rugby league player in Australia gives me a chance to show people how beautiful Islam really is, especially with all the bad things that get said about it in some media outlets here in Australia and around the world."
Share this


Link to this
Printer Friendly