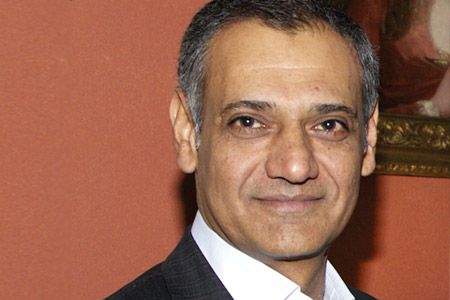 10 Questions with Shabir Nawab
Issue 98 November 2012
Shabir Nawab knew that accountancy was to be his profession, for he had been inspired by his brother Rafiq. However, Rafiq's inspiration was to drive further into Shabir's life, teaching him that money should never be a motivator, and as such Shabir has grown to be a leading philanthropist.
Shabir is founder and Principal of Shabir Nawab & Co, a successful accountancy practice in Birmingham, UK. The firm has been established for over 30 years. The firm provides tailor made services to its broad range of clients, and has experienced substantial growth in recent years. In addition to his work at the firm, Shabir Nawab is renowned as a leading philanthropist. He supports a number of charities associated with HRH The Prince of Wales. He is Chairman of the Mosaic West Midlands Regional leadership Group, part of the Mosaic Network, a mentoring charity founded by Prince Charles and designed to create opportunities for young people of all backgrounds growing up in Britain's most deprived communities. Shabir is also part of the International Leadership Team for the Pakistan Recovery Fund, a charitable initiative convened at the behest of its patron, Prince Charles, to raise money for flood-affected victims in Pakistan.
1. How did your education and upbringing have an influence on you?
I am the middle of nine children. My father was a businessman. Education was not really emphasised, and I did not do well at the CSE/O Level stage. My older brother, Rafiq, however was an accountant. It was his influence that made me take education seriously at A Levels. When we moved to the UK in 1978 I knew that my path was accountancy.
2. Which people do you admire the most and why?
My brother Rafiq is the individual I most admire. He trained me. It's because of him that I am what I am. My father was a very quiet man, so it was Rafiq who I looked up to. He was not just an accountant, he was unique. He was exceptional at his job, but more than that, he was a mentor and a friend to so many. He looked after his clients through their family problems, their monetary worries, their life troubles. He taught me that money should never be your motivator, but rather enjoyment of work. When you enjoy what you do, you commit, and become good at it. This leads to success. Rafiq died at 49. I still feel his loss so completely. I lost more than a brother. I lost my mentor and inspiration.
3. What was your biggest break and was there an element of luck involved?
I don't believe in luck. I believe in God's rizq. Some people work a few hours, and have a lot. Others work hard, but seem to get nothing in return. Good and bad come from God. He can give, and He can take away. It's not your doing. That said, when I had my daughter, things changed for me. We expanded, and grew quickly. Perhaps she was the one with great rizq. I think it's important to recognise that it is God in control. We try as hard as we can, but ultimately everything is in His hands.
Share this


Link to this
Printer Friendly