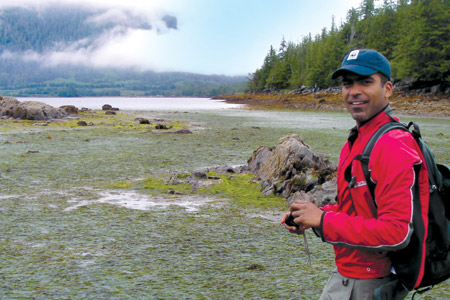 A week in the life of Hussein Alidina
Issue 98 November 2012
Inspired by the Rio Summit in 1992 to take up a career in conservation, Hussein now works to protect the Pacific Coast of Canada.
On two mornings a week, I will wake up at 4am and get to the local community centre for morning reflection and prayers. Other days, I will be up between six and seven, when I will stretch and do some yoga. This would be followed by a quick breakfast, which is usually a wholegrain wrap or bread with some fruit. I try and live a minimal carbon and energy footprint lifestyle, so my journey to work is by bike or on foot.
I work as the Senior Officer for Marine Science and Planning for the World Wildlife Fund (WWF) in Canada. My role entails bringing good conservation science to the decisions being made about how oceans and marine environments are being used on the Pacific Coast of Canada, in order to ensure the protection and conservation of natural environments including the oceans and marine wildlife, as well as the sustainable use of marine resources and addressing climate change issues.
I grew up in Kenya in East Africa and spent a lot of my childhood on my grandparents' farm, an area that was rich with bird diversity, so seeing and being around wildlife was common. I was a teenager when the Rio Summit was held in 1992, and with that came increasing environmental awareness, which inspired me to a career in nature conservation, because I felt it was what I needed to do to contribute to protecting the planet and its biodiversity, given the state of environmental degradation. That led me to pursue an environmental science degree in Canada, and after graduating, I worked with the WWF for a few years on both marine and terrestrial protected area assessments. I subsequently returned to Kenya to work in Mombasa on coastal and fisheries conservation. For the past five years, I've been in Vancouver working in the Pacific Office for the WWF, but I continue to support some coastal work in Kenya at CORDIO East Africa where I am an associate.
The reality of my job is that a lot of conservation decisions are deliberated and made in meetings of resource management bodies. Therefore, my colleagues and I spend a lot of time planning for these meetings, where we can be present to make the case for nature protection. I am also tasked with completing science reports and developing projects that we can use to raise awareness on marine issues such as climate change, underwater noise pollution and damaging fishing practices, but which also illustrate interesting analyses and solutions that we can provide for government and other stakeholders. The best part of my job is definitely when I am able to visit field projects and work with the scientists, community groups and nature protection agencies. Much of the temperate sea along the Pacific Coast is rich and biodiverse, so it's certainly an interesting place to work in. I've also been fortunate to travel to Alaska, where I supported an Arctic project, and to Chile and Cuba, where we worked with WWF and other conservation colleagues.
Share this


Link to this
Printer Friendly