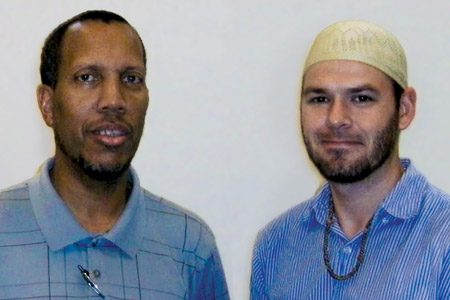 A Month as a Muslim
Issue 98 November 2012
Over 2011, Andrew embarked on Project Conversion, where he experienced a different religion for each month. When it came to Islam, he chose Adam as his mentor.
Andrew
As a high school student, I adopted a fiery brand of evangelical Christianity. I judged and condemned everyone different from myself, until I was consumed with hatred toward anyone of faith. Eventually, my anger had reached its apex, and I had to decide whether or not I could not I could go through with the next logical expression of the hatred, which was explosive action, or siphon that rage and energy into another direction. That was when I realised that I could not live, and that could not harm someone based on their faith. This was the impetus for Project Conversion, which was my chemotherapy to combat hate.
I attended a community college and it was there that a lecturer introduced me to Adam. She informed me that Adam was a former imam and involved in Islamic education and interfaith outreach. Once we met, I could not have imagined a better mentor. Adam's most helpful piece of advice was that I should never fear a mistake made during a sincere effort. He guided me through Islam like a father teaching his child how to ride a bicycle. There were plenty of stumbles, false starts and scraped knees, but in the end, I believe we made some wonderful progress. I could see he was a man with unending patience and he had a deep commitment to my understanding and experience with Islam.
I timed my month as a Muslim to coincide with Ramadan, and it was my first extensive experience with fasting. It was quite a shock for the first few days, but in the end, I endured. Before my experience with Islam, I thought Muslims were short-tempered, barbarous and spiritually shallow, but a few hours spent with Muslims curbed those preconceived notions. I remember the first time in the masjid during jummah. Although Adam was next to me, I still felt uncomfortable. I stepped in line with the other brothers, toe to toe, shoulder to shoulder, about to participate in congregational prayer. My personal space was invaded by a communal force of brotherhood that completely overwhelmed me. As we bowed, kneeled and prostrated as one, I felt my heart melt as we worshipped and prayed together. I was no longer their enemy. I was free of the last vestiges of my past, and they accepted me—as they do to this day—as their brother.

Adam
A mutual acquaintance had given Andrew my contact details, and he called to tell me about Project Conversion and asked if I would be his mentor. I was pleasantly surprised when I heard about it. I often have people ask me about Islam, and I relish the opportunity to share my faith with them, especially those who want to know. It sounded like an exciting project, and I was willing to help out however I could. Andrew had chosen his month as a Muslim to be during Ramadan, which I also found quite surprising. I probably would have chosen a less challenging time!
Share this


Link to this
Printer Friendly