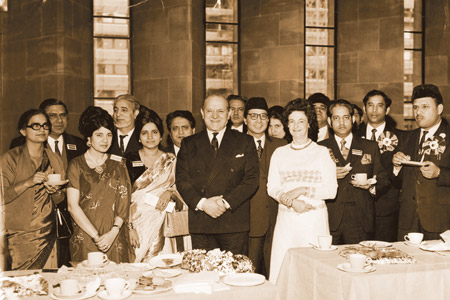 The Founding Mission
Issue 99 December 2012
On its 50th anniversary, the UKIM can proudly claim to be one of the pioneering Muslim organisations in the country. It has founded other important organisations, and its members have initiated innovative projects.
The UK Islamic Mission (UKIM) is one of the earliest Muslim organisations in Britain. From humble beginnings and meagre resources, yet possessing a bold vision and an enthusiastic cadre, the UKIM can now proclaim mosques and Islamic centres across the country, with numerous da'wah, education, and relief projects. But beyond the physical bricks and mortar, it is UKIM's building of people who are committed to live a life of Islam, of dedication and sacrifice, which has been its lasting feature. Indeed, there are Muslim organisations and initiatives in the UK that are led by people who have passed through the UKIM training and personal development programmes. Stating all this is not to gloss over the fact that over the years the organisation has had its fair share of organisational problems, with periods of stagnation, ineffective management, inter-personal problems, financial crises, and incurred a few legal misfortunes. But none of this can detract from the sincerity and dedication with which its leadership and senior members conduct themselves. This was clearly visible at its Annual Members Meeting in September where men, women and teenagers flocked to listen to speakers, as well as to reflect on and self-critique their organisation—none more so than Habibur Rahman, one of its former presidents, who in a very frank assessment said the organisation was simply not doing enough to meet the challenges of the day.
It all started in the early 1960s, when students from East and West Pakistan came over to Britain to advance their education. They set up random study circles in some cities across the country. Most had been Islamic activists in their home country and were inspired by the late Syed Abul A'la Mawdudi and his organisation, the Jamaat-e-Islami and its students' wing. One seriously energetic student, Korban Ali, studying at the Bar, thought more could be achieved if these various circles co-ordinated their efforts. So, on 5th August 1962 a meeting was held in the East London Mosque to set up an organisation. The name was agreed upon, and Korban Ali was elected the president and Muhammad Abdussalaam the secretary. The following year, premises were bought at 148 Liverpool Road, London, which doubled up as the UKIM HQ and student accommodation.
Thereafter, the activities, mainly Qur'anic studies, took a structured format and UKIM members began to take the lead in many projects. For example, in 1963, the Federation of Student Islamic Societies (FOSIS) was set up and at its first annual conference in 1964, Mohammad Khan Kayani was elected president and the UKIM HQ was used for FOSIS activities. Though some of the early leaders left the UK after their studies, others like Abdussalaam, Tanzim Wasti (elected Secretary-General after Abdussalaam) and Abdur Rashid Siddiqui (Secretary-General for many years thereafter) have remained in the UK and still play an active role in community life.
Another project that started in 1963, which may seem rather quaint today, is the publication of a calendar with a prayer timetable. In today's world of apps and smart phones, such an item may seem a relic, but in the '60s for a migrant community, such publications kept the community spirit alive and cohesive. On an a broader structural level, the UKIM set five goals: (i) to safeguard the Islamic identity, (ii) to establish mosques, (iii) to establish madrasas, (iv) to provide relief and welfare, and (v) provide Islamic literature for Muslims and non-Muslims.
cheap mens outerwear https://www.yohoman.com/Apperal/outerwear-and-jackets/
Share this


Link to this
Printer Friendly