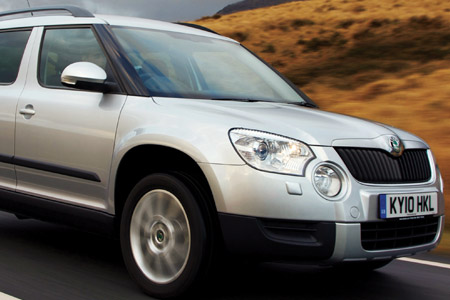 A Versatile Beast
Issue 99 December 2012
Named after the mythical creature, Fazeel Ashraf finds that the Skoda Yeti offers much more than what initially meets the eye.
Until a decade or so ago, to publically announce that you own or drive a Skoda would lead to stifled sniggers and knowing looks from your colleagues that you didn't know much about cars. But in the background, Skoda's parent company Volkswagen have slowly and surely been plugging away to make Skoda an acceptable mainstream brand. In fact, Skoda is so important to VW that they have designed and engineered independent models without feeling the need to plagiarise from the Audi, Seat or even the Volkswagen catalogue.
However, Skoda is now offering us a car that doesn't initially make any sense. It's a cross between a family hatchback, minivan and off-roader all in one. Yes, Skoda is offering the Yeti with the option of four-wheel drive. I'm hoping it's more than just a jacked up shopping trolley and while I didn't get the opportunity to take it through the wilds of a desert or mountain range, I couldn't quite work out why they have offered the Yeti with the option of four-wheel drive. It's not like one day after dropping the kids off to school you will suddenly have the urge to navigate the terrain of your local farm.
But ask yourself why would one wander into a showroom and purchase a car named after a mythical Himalayan ape-man? In the first instance, Skoda have shied away from aggressive styling and instead gone for the more down-to-earth practical look and instead of offering bling, they have gone for individuality options like contrasting roof colours. More importantly the Yeti offers versatility, which means rear seats can be individually tilted, removed or folded providing van-esque room without having a full blown people carrier. I wouldn't call the Yeti pretty from any angle; in fact it's as bland as your local supermarket's chicken tikka masala sauce. If you see that being a problem then you're missing the point of the Yeti.
On start-up the Yeti instantly identifies itself as a diesel oil burner and even on the move the clatter never really goes away. The stiff body generally provides a stable road manner, though odd wheel in the air moments and 'crashiness' due to its light body should be expected occasionally. On smooth roads there is a disappointing build-up of wind noise at motorway speeds. There is a decent amount of pull thanks to the excellent VAG diesels that gives point and shoots confidence, useful for overtaking and zipping into gaps. Unfortunately at all times there is an artificial, almost rubbery, sensation that gets transmitted through the steering wheel, only providing a vague sensation of where the limits of the tyres really are. Thankfully it's very rare that one needs to reach those limits in day to day driving and compared to other car offerings at similar prices, the Yeti always feels agile, city friendly and nimble.
Share this


Link to this
Printer Friendly