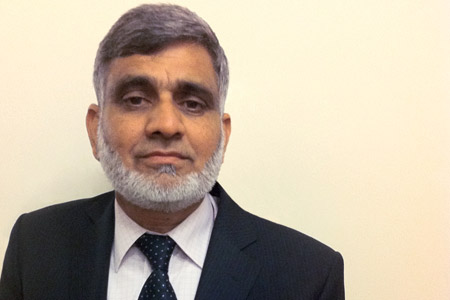 10 Questions with Zia Ul Haq
Issue 99 December 2012
Even though his business takes up a lot of his time, Zia Ul Haq always manages to find time to devote to community work with UK Islamic Mission.
Zia Ul Haq came to England from Pakistan in 1968 at the age of fifteen. He has five children, three daughters and two sons. In 1999, he opened his first shop, Echo Island in Walsall town centre. Within a few years the business boomed and has become a small but successful chain. The business is continuing to excel and has every chance to make its mark as a vibrant business with an online presence.
Zia has been an active member of the UK Islamic Mission Walsall since 1978. Aisha Mosque Walsall was the first purpose built mosque of the UK Islamic Mission (UKIM), and Zia played an important role in its fundraising and construction. He is the President of UKIM Walsall, and a member of the UKIM Central Executive.
UKIM has recently purchased a very large centre in Oldham, Greater Manchester. They have named this the European Islamic Centre and aim to make it a successful centre. Zia is a head of this project, and hopes that God will grant success to the UKIM in establishing an excellent institute for generations to come.
1. How did your education and upbringing have an influence on you?
When I first came to the UK, despite being a very good and studious child, my priorities changed. My father was a junior army officer, and we had a large family so the need to assist my father financially took upmost importance. I therefore began working in a low-paid job alongside evening college classes.
My upbringing had a strong influence on my life. My mother, may God bless her soul, brought me up in a well-disciplined and loving atmosphere. She was a very sensible, humble and steadfast woman. She taught us how to be dignified within any hardship and to always be thankful to the Almighty. My father, may God bless his soul, was very particular about ensuring his living and earnings were halal and lawful. He always taught us to refrain from unlawful ways and earnings, and I strictly adhered to his words of advice.
2. Which people do you admire the most and why?
One of the main personalities I admire is that of Sayyid Mawdudi. The work in establishing a movement put in by Mawdudi and the most beautiful and comprehensive treasure of literature he left, are a source of practical guidance for any Muslim. The time and effort that he put into research of historical facts, which were then presented with such accuracy, is truly admirable. Yet now we struggle to find the time to read it all.
3. What was your biggest break and was there an element of luck involved?
I established my business on a weekend basis in 1977 and full time in 1992. I have five children, who have always helped me in in my business. My youngest son started a job in a bank, where he was not personally satisfied with the work ethics and the exploitation of customers. It is at this point he suggested and ultimately decided to take my business to a new level.
We opened a second branch of our shop in Wolverhampton as a temporary Christmas time measure. The business proved to be a success, alhamdulilah, which gave us the confidence to keep this shop. This enabled us to negotiate a deal on another primely located shop in Walsall, which my eldest son ran. The overheads at this shop were extremely high, but we put our trust in God and we took the risk. Numerous attempts by competitors to derail our expansion were overcome by our perseverance and hard work. By the grace of God, their attempts were futile and we went from strength to strength. Our annual business quadrupled, along with our confidence.
4. What has been your biggest failure and how did you recover?
In business you can always expect some failures, but alhamdulillah for me this has never been the case. Being such a family-orientated business, my sons Yaser and Ammar are very diligent and always put in maximum effort. One key element in our business is that we have never relied on bank loans or any type of overdraft facility. I strongly believe that this eliminates any risk in my business. This also allows the business to stay halal and blessed with barakah from the Almighty.
Cheap Shirts For Mens : https://www.hellenwoody.com/en/men/shirts.html
Share this


Link to this
Printer Friendly