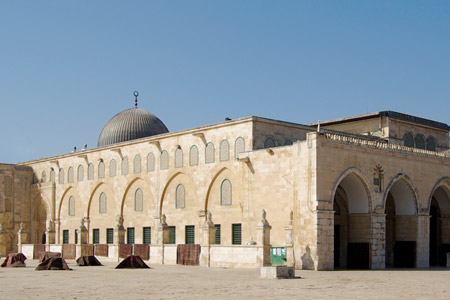 Diary of a travelling imam
Issue 99 December 2012
Charming Jerusalem 
No matter how many times I visit this place, I still find it one of the most beautiful and charming cities in the world. I was entering Jerusalem at Baab al Amood, which is strictly controlled by the Israeli military, but the soldiers there were young kids, at best 19 or 20 years old. What irritated me most was the use of metal gates and barbed wire that resembled a concentration camp. Why would human beings subjugate others in this manner?
I walked through the gates after a short delay. All the Palestinians around me were extremely nervous. The alarm went off and all the gates around us shut, and I could see the terror in their eyes. One of them told me that last time that happened, a Palestinian was shot dead by the soldiers. On the other side, I was received by an extremely handsome and tall Bruce Willis lookalike. He was a local from Jerusalem and a successful businessman. He was driving the latest SUV and playing the Qur'an out of his speakers. He was also smoking and I soon found out that the Palestinians are the biggest smokers in the Arab world.
He drove me to a beautiful hotel in the Arab quarter, which is the only five-star Arab-owned hotel in Jerusalem, and was a stone's throw from the Al-Aqsa Mosque. We met the owner of the hotel and he told us about his difficulties in obtaining a license to run the hotel. I couldn't believe that Israel could refuse a business permit simply because a person is Arab. How can a country get away with such blatant racism?
The next day was Friday and I was itching to go to the Al-Aqsa Mosque for Jummah prayers. We arrived at the doors of the mosque, which were also controlled by Israeli security guards, but these were Arab Israelis that my host said had "sold their soul to the devil". They checked my passport and let me through. I walked through the gates and longed for the view of the mosque and its surrounding arches. The tranquility provided by the Al-Aqsa Mosque, in the middle of the mayhem caused by the occupation, makes it a sanctuary. You can come in here and forget about all the pain, humiliation and anger. I walked through the magnificent courtyard as the call to prayer echoed from the surrounding hilltops and reverberated in my heart.
Men's T-Shirts https://www.hellenwoody.com/en/
Share this


Link to this
Printer Friendly