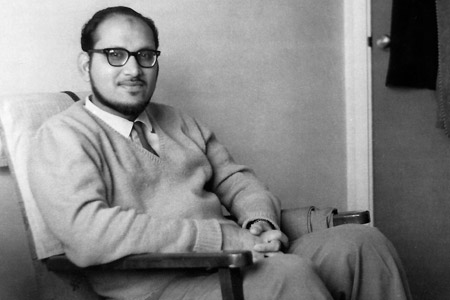 Tales from the Librarian
Issue 99 December 2012
As a young man of 30, Abdur Rashid Siddiqui came to Liverpool in 1963 for an internship. He has remained here since, and has witnessed the growth of the Muslim community.
I was born in Gwalior, Central India and was educated in Bombay. My extended family had moved to Karachi after the 1947 communal riots. In the tragedy of war, they had left all their properties and possessions behind. In 1962, I also migrated to Karachi, with my mother and sister (my father had passed away before the 1947 Partition between India and Pakistan). I had gained an honours degree in Economics and Politics from the University of Bombay and had a law degree from the same University. Then, I did a post-graduate diploma in Library Science and had worked as a librarian at the Times of India Library, and then in the Karachi University Library.
In December 1963, when I was 30 years old, I came to the UK on a one-year internship at the Liverpool Public Library. My journey over was quite dramatic. In those days, flights from Asia to Europe had to make a stop-off for refuelling. Just after taking off from Tehran, our plane was struck by lightening and we had to make an emergency landing at the British military base in Cyprus. Our plane was too damaged to repair and we were eventually put on an Olympic Airlines flight to Athens where we remained stranded for some time. I was the only person amongst our group who spoke English, and I ended up being the group representative. People were worried about the validity of their employment vouchers since British immigration laws had come into force. In the end, we made it to Heathrow. It was close to midnight by the time we landed, and so I missed the last train from Euston to Liverpool. I ended up staying the night at Euston station in the cold, miserable winter weather.
The following morning, I caught the train to Liverpool and found accommodation at the YMCA, where I encountered a few other Muslim students who had come from around the world. It was here that I heard about an organisation called the UK Islamic Mission, and in August 1964, I went to its first AGM at Islamic Cultural Centre, London. There were about 40 people there, and Korban Ali was elected president. I felt at home with the UKIM, as there were other like-minded people with whom I could have a social and intellectual engagement.
At the time, the UKIM had some unique challenges. There were very few mosques or community centres; there was only one halal meat shop in London (I remember that meat used to be sent to Dr Said Ramadan, father of Prof Tariq Ramadan, and Mawlana Zafar Ahmad Ansari in Geneva). And later, as young families came over, their religious education needs and preservation of Muslim identity became challenges for the UKIM. Then there were external challenges from events in the international scene, like the war between Pakistan and India, the Soviet invasion of Afghanistan, the Iranian revolution, Palestine, the war in Bosnia, and numerous humanitarian disasters that kept us busy. Recollecting all this, and looking at today's challenges, it seems that some things have not changed at all!
cheap mens sweaters: https://www.hellenwoody.com/en/men/sweaters.html
Share this


Link to this
Printer Friendly