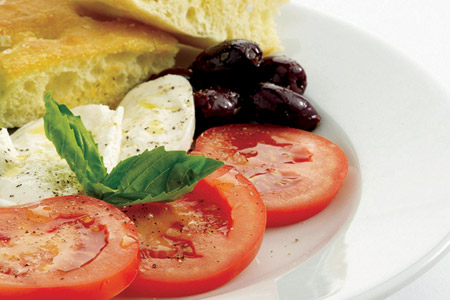 Reviews
Issue 99 December 2012
Carluccio's offers a twist on the standard Italian bistro us Londoners have become so used to.
Restaurant
Carluccio's
Review by Aliyah Bandali
Carluccio's offers a twist on the standard Italian bistro us Londoners have become so used to. Opening the doors I expected to be presented with the usual restaurant decor, but instead I am transported to what appears to be a local Venetian deli stocking everything from fresh pasta to homemade biscotti. The walls are transformed to look like windows overlooking rustic villages in Venice and the standard table/seat layout is replaced with comfortable and cosy booths perfect for intimate dining.
The menu offers a selection of anti-pastis, fresh pasta and fish. Taking a bite into our stuzzchini (small Italian plate) of grilled garlic bread and cheese, the bread literally melts in my mouth, with just the right amount of garlic hitting my palate.

My first course of arancini di riso (rice balls with pesto fried in bread crumbs) is served with a gorgeous orange peppery sauce that sets off the pesto and adds a little kick to the dish. My friend orders the bruschetta which is a masterpiece of bright reds, greens and yellows from the lavish use of ripe tomatoes, peppers and watercress.

We order Carluccio's signature dish for our mains, penne giardiniera, huge pasta tubes, coated in a delicious white sauce and served with fried spinach balls that have an almost meaty texture to them. This pasta does not only tantalise your taste buds, but by donating 50p from the dish to Action Against Hunger, it's contributing to a worthy charitable cause. The only let down were the sides of green beans and spinach which came rather cold and slightly bland.

By the time it came to dessert, my dining partner and I are staggered at the prospect of demolishing any more food, however one glance at the mouth watering selection has me convinced I can make room. Opting for vanilla gelato with wafer and chocolate bread and butter pudding with vanilla cream, I can see we made the right choice, undoubtedly the best dish of the day.

Carluccio's offers great tasting food and a relaxing atmosphere at more than reasonable pricing, even offering a fixed menu from £9.99. All the dishes are made from scratch using the freshest ingredients and with the bistro offering the chance to take some of the magic home, this place makes you sad to say arrividerci! www.carluccios.com
Book
Night by Elie Wiesel
Review by Faheem Hussain
At just over 100 pages, Elie Wiesel's terse narrative is one of the classics of Holocaust literature. Set at the end of WW2, his childhood is ruptured when his small Jewish community in Eastern Hungary is forcibly ghettoised and then transported to the concentration camps, Auschwitz and Buchenwald. Amidst the cruelties of man, Eliezer gives an harrowing account of life in the camps, his abandonment of his father and his loss of faith in God.
Share this


Link to this
Printer Friendly