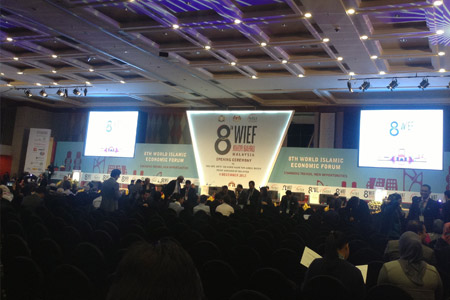 World Islamic Economic Forum (WIEF) 2012 Day One (Morning).
Issue 99 December 2012
Zéna Butt is blogging on behalf of Emel at the eighth annual World Islamic Economic Forum (WIEF); held this year at the Persada Johor international Convention Centre.
Following a seventeen (!) hour journey from London to Johor Buhra, Malaysia, I am blogging on behalf of Emel at the eighth annual World Islamic Economic Forum (WIEF); held this year at the Persada Johor international Convention Centre.
This years WIEF is themed as "Changing Trends, New Opportunities" and ties in aptly with the WIEF Foundation's ethos that the Muslim consumer segment embodies mammoth business frontiers, investment opportunities and marketers. Though the economies of China and India are recognised internationally, the WIEF foundation are adamant that "a quiet but enormous amount of potential lies largely untapped in the global Muslim consumer market today".
The eighth WIEF, taking place across three days (4-6 December 2012) and comprising 2,100 delegates representing 86 countries, along with approximately 70 confirmed international speakers, promises in-depth discussion and exploration into various economic and business related issues that have arisen in the wake of recent developments across the world (predominately in Europe and the Middle East).
Along with the WIEF itself, the WIEF Young Leaders Forum, WIEF Businesswomen Forum and the 5th Marketplace of Creative Arts (boasting more than 30 artists and creative individuals from across the globe) will come together to showcase the diversity and talent that the Muslim world has to offer.
The first day of the eighth WIEF began at 9.30am this morning with the Opening Ceremony of Leaders. Arriving to a chorus of beating drums that bounced off of the conference space's walls and following a beautiful recitation of Surah al-Hujurat, Tun Musa Hitam (chairman of the WIEF foundation), took centre stage to address those present and introduce the Malaysian Prime Minister Dato' Sri Najib Tun Abdul Razak.
Razak proved keen to establish that the WIEF is not merely a significant event for the Ummah, it holds significance to the Ummah's engagement with the world. Taking place at a time where the world is facing enormous challenges (what with the Eurozone crisis, China and India's well-documented economic slowdown and the Arab Spring / Arab Awakening), Razak stated that his keynote speech would centre on the youth.
In 8 out of 10 countries between 1970 and 2000 where civil conflict and unrest was apparent, 60% of the population were under the age of 30 – proof that youth disillusionment can lead to apathy and extremism. As unemployment amongst the youth appears to be on the rise internationally, restlessness increases and as a direct result, the youth rebel.
Razak continued with his chosen topic and gave several staggering demographic statistics; by 2030 26% of the world will be Muslim but Muslim youths will make up 30% of the world's entire populace, shockingly, in 2010 youth unemployment had reached a colossal 26% in the Middle East. The longer the youth are unemployed the harder it will be for them to find work; culturally, if they cannot support themselves they will not be able to support a family – they will therefore find it difficult to marry and therefore will be unable to make a complete transition into adulthood. This will leave them underdeveloped, disenchanted and they will suffer a loss of dignity.
Razak's solution? Build open and stable economies where young people can both prove and reach their potential. The youth want to play a part in civil society so we must deliver what we're not sacrificing; we must engage the Muslim youth with their untapped potential and show them, as well as the world, what they can do.
Technology, its accessibility and importance also formed a major part of the opening ceremony's keynote speech. Razak interlinked his two themes concisely; as a whole, the Muslim world needs to respond to technological change and recalibrate and reassess how they communicate with young people. Minds must be opened to new opportunities within the digital economy and digital entrepreneurs must be supported.
Ploughing through his passionate speech with dexterity and poise, the Malaysian Prime Minister continued that it is vital to invest in young people and women; as nations we must have confidence in the Muslim youth as consumers, employees and entrepreneurs. The changes we make today will help us capitalise on our greatest resource – our youth – tomorrow. He ends his speech with incredible food for thought: Do not see the youth as a liability, see them as an asset. As an untapped resource. By focusing on social, political and economic reform, we can make this the greatest Muslim generation that has ever lived.
As the crowd erupts with thunderous applause and Razak hands over to the other leaders (President of Comoros, Pakistan's President's adviser, deputy Prime Minister of Singapore, special Minister of Qatar, Chairman of Moro Islamic Liberation Forum and the President of the Islamic Development Bank) to deliver their presentations, several resonating points were made.
The deputy Prime Minister of Singapore delivered more statistics and thankfully they were more optimistic! He informed us that Islamic finance has been growing steadily at a rate of 26% every year since 2006 and that the next 10-15 years offer a wealth of opportunities for even more growth. Islamic finance has the potential to diversify into different areas, be they emerging market economies or as global finance consolidates; investors are keen to find outlets for investment but Islamic finance as a whole needs to reduce fragmentation within itself first (i.e. between regions and jurisdictions).
Pakistan's President's adviser addressed the state of his country and the fact that they greatly need to catch up with the rest of Muslim world economically; he was semi-critical of Pakistan's government, stating that the country is facing the bleak prospect of terrorism due to its inability to harness the potential of its youth.
The Qatari special Minister began his presentation stating that the Malaysian Prime Minister's statements regarding the youth and economic development should be adopted as a mission for the entire Muslim world as another step towards solidarity, affluence and greatness.
With the opening ceremony being so thought-provoking and profound, the next two and half days at the WIEF look as though they will be thoroughly stimulating. The first day will later end with a talk titled "Harnessing the Waqf Fund for the Muslim Ummah" of which I will provide written highlights for all Emel readers.
mens casual shirts: https://www.hellenwoody.com/en/men/shirts/casual-shirts.html
Zéna Butt
Share this


Link to this
Printer Friendly