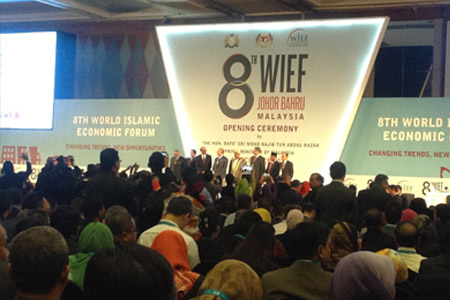 8th WIEF Day 2. Morning Session
Issue 99 December 2012
Multiple talks took place this morning: 'Women Entrepreneurs: Catalyst for Change' and 'Women in Technology: Fostering Interest and Overcoming Obstacles'.
Along with the World Islamic Economic Forum Foundation, there are other initiatives that the WIEF fund – the WIEF Businesswomen Network (WBN) and the WIEF Young Leaders Network (WYN).
Multiple talks took place this morning: 'Women Entrepreneurs: Catalyst for Change' and 'Women in Technology: Fostering Interest and Overcoming Obstacles'.
Unfortunately, the WBN and WYN talks clashed with each other due to insufficient schedule space, a flaw that should most definitely be rectified in next year's WIEF in London.
I opted to sit in the WIEF Young Leaders Forum "iGovt: Developing a New Generation of Technocrats" headed by Ozlem Piltanoglu, Turk Telecom, Turkey, Rushanara Ali, MP for Bethnal Green and Bow, UK and Aaron Maniam, Director at Institute of Policy Development Civil Service College, Singapore.
Ali had very strong, very convincing opinions throughout the entire discussion, adamant that the UK government needs to adopt new policies to ensure that institutions are more responsive and in tune to what individuals want and need.
Manifestations of the importance of technology – social media in particular – are evident from recent events such as the Arab Spring, multilateral organisations therefore need to respond to such changes. Though the majority of these organisations are large in size, expectedly they would take an increased amount of time to change their way of doing things; citizens however, expect changes to occur as soon as possible. There are different expectations pulling in contradicting directions and this where reforms need to take place – which is no easy feat.
Both dialogue and conflict in society is being highlighted and magnified in today's society and citizens across the world are demanding much more from their national institutions. The situation unsurprisingly varies from country to country which therefore means that a working e-government would look different from place to place. In the UK however, Ali envisages a change into how the British public services give feedback; she wants them to incorporate better feedback mechanisms in their day to day running of situations and the easiest way to do this is technologically.
It is not however technocracy vs. democracy – a good government needs to amalgamate the two. In the same way, it is not a case of technocrats vs. bureaucrats; contrasting views undeniably exist but this needs to form a kind of constructive tension that will then lead onto mutual understanding and respect between the varying groups.
Ali hopes that one day there will come a time where the younger generation see the civil service as a place that they can get into to change the world and improve their societies; the younger generation today are drawn more to technology than ever before and it is through technology that young people will become passionate about various aspects of the civil services in place in the world today.
Next on the agenda was another WIEF Young Leaders Forum, this time in the dialogue series, entitled "Are Policies in the Muslim World Hindering The Spirit of Entrepreneurship?" with speakers Basim Elkarra, Executive Director of the Sacramento chapter, Council on American-Islamic Relations, USA, Abubaker Bujaasi Mayanja, Managing partner, ABL Associates, Uganda and Navshir Jaffer, Assistant Secretary General, Muslim Council of Britain, UK.
Jaffer began the discussion with reference to the UK; the notion and common expression that the UK is 'a nation of shopkeepers' was discussed with pride. The UK shows an engine of growth and a culture of entrepreneurship (we can look at James Dyson and Richard Branson as prime examples). The employment legislation is sonorous in the UK and various incentives are bought in to aid smaller businesses (smaller establishments pay less tax, if the business owner is earning less than £75,000 a year they pay a reduced amount of VAT etc).
There are also various technological tools that aid entrepreneurship in the UK for example, the 'Growth Accelerator' website:
(http://www.growthaccelerator.com/) that businesspersons can log onto to receive advice, register IP addresses, get information in regards to how to source finances etc. as well as 'Mentorsme' (http://www.mentorsme.co.uk/) where companies are connected to mentoring organisations to aid growth and increase capital.
Basim Elkarra then took to the floor with an easy, fresh and rather humorous manner about him. He spoke about how the USA too has similar policies in aiding business growth and encouraging entrepreneurship – one such example being Obama's 'Start Up America' campaign. Elkarra was incredibly intent on insisting however, that policies DO NOT 'make' entrepreneurs, in fact, they have been around for centuries for the Prophet Muhammad (saw) himself was a self-made businessman.
Individuals like Mark Zuckerberg (founder of Facebook) have great ideas but without the start up capital these ideas would never have physically materialised – lack of investment in entrepreneurs is what the Muslim world lacks.
Next discussed was Silicone Valley, California; people move to California because it is free spirited and as Elkarra says, "People dream BIG". He went on to state that "In the Muslim world, if you're not a doctor or engineer many automatically consider you a failure" – the problem does not lay with Islam, it lays with culture (and corrupt politics). People are afraid to start up companies because someone in the government will, according to Elkarra "come and take a large portion of it and give it to their cousin – we've all seen what happened under Mubarak's rule".
The culture of 'it's not what you know, it's who you know' but 'you can know anyone and do anything you want for the right price' in the Muslim world is profusely un-Islamic. We should help others; when you make dua for someone Allah rewards you in abundance – business is like this too. If you help someone with no ulterior motives, their successes will help you (or your country) in the future.
Barriers for making a business in our current day and age are down – social media and influential outlets such as Apple's App Store knocked the barriers down with force; Muslim youths merely need a push in the right direction – funding, investment but ultimately, belief in their potential.
Zena Butt
Share this


Link to this
Printer Friendly