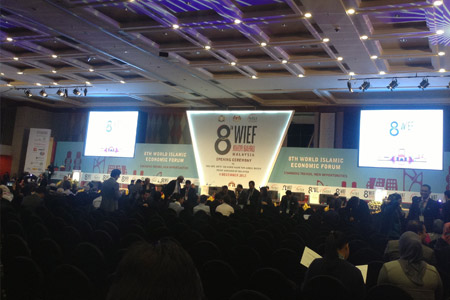 8th WIEF Day 3 (Morning)
Issue 99 December 2012
Zena Butt takes us through the last day at WIEF, which looks to be the busiest yet.

With activities, talks, discussions, showcases and workshops going on throughout the day, the third and final day at WIEF looks set to perhaps be the busiest yet.
As you have seen from my last few blog entries, the WIEF covers a large spectrum of issues affecting the Muslim world today (in no way does it confine itself purely to economics) but it is also intent on giving the creative arts a platform on which talents can be seen, heard, felt and experienced.
Today at the Marketplace of Creative Arts (MOCA), there have been continual screenings of international short films – no Bollywood or Hollywood in sight! It really was a fantastic opportunity to see and understand the way in which different cultures express themselves through film – very raw, authentic and hard-hitting. Having the Directors answering audience questions at the end of each showing in a small, personal environment further aided the digestion of the films.
As has been the case throughout the WIEF, when one thing is going on there is always many others at exactly the same time! Time needs to be managed efficiently and one needs to be selective in what is seen. With masterclasses ranging from South Asian Kathak dance (lead by Nighat Chaodhry) to 'Making Documentaries for a Global Audience' (lead by Lara Ariffin), following my enthrallment at Imad's calligraphic pieces last night (see my last blog entry 8th WIEF, Day 2, afternoon / evening) I opted to go to the 'Arabic Islamic Calligraphy in the Chinese Tradition' session lead by the legendary Haji Noor Deen.
Along with showing us himself at work, Deen gives us the chance to try our own hand at calligraphy with a Chinese twist which to first time calligraphers like myself, proved how inherently difficult the art is! We are told to 'feel' the Arabic letters and that we must first love the art, have patience with the art and then practice the art – a philosophy that Deen undeniably keeps deep within his soul; his artistic passion and ideological beliefs are concurrent and his work outstanding.
The Prophet Muhammad (saw) stated that knowledge must be shared and spread through the written word and the Qur'an refers to everything in the universe, however minute, as being in its designated place at any given time – Deen's work is an embodiment of these two concepts; not only does it spread the Islamic message beautifully, as calligraphy it can be read in any direction and still have the same meaning – truly mind blowing.
Share this


Link to this
Printer Friendly