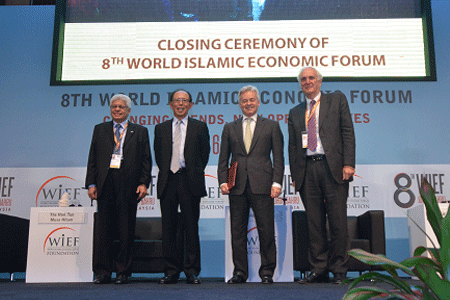 WIEF Day 3 (Afternoon / Evening)
Issue 99 December 2012
Zena Butt tells us about her afternoon at the WIEF, which began with a talk by Professor Tariq Ramadan, Professor of Contemporary Islamic Studies, University of Oxford, UK.

After a morning filled with the arts, my afternoon began with a talk by Professor Tariq Ramadan, Professor of Contemporary Islamic Studies, University of Oxford, UK.
Focusing on ethical business, Ramadan addressed business owners and insisted that they first ask themselves what they are doing for others replica watches and then how they are connecting with those around them. It is not just interaction with humanity that should be of importance to business owners however, what they are doing for the environment and how they respect it should also remain as a conscious part of their day to day running of things. Ramadan maintains that Muslims across the globe are very quick at quoting the Qu'ran and hadiths but not so good at implementing them in their day to day lives – this needs to change, they need to begin practising what they preach.
A business has to have ethics. If a business is being run but the boss is not giving to those around him, his business is not ethical; if he is not respecting the environment his business is placed in, his business is not ethical. There is nothing wrong with making money, but it matters how this money is made. The actual product being sold is also of importance, businesses must be careful to not promote consumerism without a soul.
Equality needs to exist in business, be it in the Muslim world where 'brothers and sisters' prevail over other religions or in the Western world where women are sometimes paid 30% less than men for exactly the same job role. Everyone needs to be treated equally regardless of gender, religion or race for ethical businesses to exist.
Women in Muslim countries who feel as though they are oppressed or not given fair representation in the business world need to stop sitting down and complaining about inequality and stand up and say with force 'In the name of my religion, what you are doing is discriminatory'. To those that do not agree, Ramadan is keen to challenge them with the very religion they incorrectly use to subjugate their women – how can Islam condemn women in business when the Prophet Muhammad (saw) himself worked for a woman and she protected him? Ramadan states that the problem in Muslim families today is not the steadfastness and supposed westernisation of the women, the problems lay with the men.
Ramadan points out that is not only gender equality that needs to improve in businesses today, education and its implementation also need to become more prevalent. Ramadan quotes Aristotle as saying 'To teach is to learn twice' as he tells us that our minds have rights over our beings. To give someone education is to give them value and that is priceless.
The 8th WIEF has included vigorous discussion and dialogue, with discussions focusing on global economics, Waqf funds, women entrepreneurs, innovative businesses, disaster mitigation and management, Islamic banking, the creation of tomorrow's leaders, green businesses and technocracy. Intermingling with the forum itself, the MOCA Festival provided several platforms for youths and creative persons to showcase their talents as well as lead interactive workshops and active Q & A sessions.
As the closing ceremony begins it is formally announced by Alan Duncan, UK MP and Minister of State in the Department for International Development, that the 9th WIEF will take place from the 29th-31st October 2013 at the Excel Conference Centre, London.
Full of praise for the WIEF organisation and logistics team, Duncan is passionate that London, the first non-Islamic city to host the WIEF, will prove to be a fantastic location following from its successful hosting of the 2012 Olympics.
Duncan informs us that Britain is no stranger to Islamic banking, in fact there are 22 Islamic banks across the country, 6 of which are fully Shari'ah compliant. Islamic finance has also helped build London, with the city's newest building – the Shard – being primarily financed by Shari'ah compliant investments. Duncan has no doubt that Islamic banking will become, if it is not already, an integral part of the world's financial sector; by 2045 it is estimated that Islamic finances will total $2.5trillion.
The next speaker is London's deputy mayor, Edward Lister, who too welcomes all those present at the 8th WIEF to London with open, hospitable arms. Sure that all those who attend the 9th WIEF next year will feel at home because of the 230 languages spoken in Britain's capital, next year's forum promises to be the largest one yet.
As Tun Musa Hatim takes the stage to finally close the 8th WIEF, it is hard not to feel some sadness; the forum has been explorative, eye opening and inspiring. Only in its eighth year, Hitam maintains that though the foundation has been growing slowly and steadily, it has grown in such a way that it has remained relevant to the international business community.
Hitam did not expect there to be over 2,000 people present at the 8th WIEF (they envisaged 1,000), never did he expect 86 countries to be represented, nor did he expect such an abundance of great ideas. These ideas, he is sure to point out, will not remain 'ideas', WIEF will closely follow up on these notions and work on formulating and processing them.
It has been a fantastic trip to Johor Buhra, Malaysia to experience such a unique and diverse event. The logistics team, the Malaysian people, the talks, workshops, art, products on sale and not to mention authentic Malaysian cuisine! – have all been amazing. With London tipped to be the largest most exciting World Islamic Economic Forum yet, I cannot wait!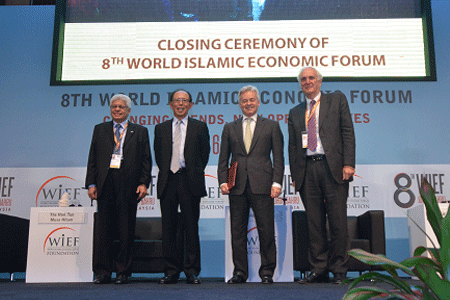 Left to right: Ahmad Fuzi, Tun Musa Hatim, Alan Duncan and Edward Lister.
Photo attributed to WIEF Foundation.
rolex replica : https://www.promowatches.net/
Share this


Link to this
Printer Friendly