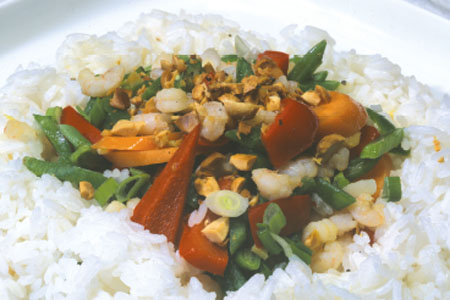 Thai Tasters
Issue 9 Jan / Feb 2005
We've all been there... tired and hungery, you remember you foolishly volunteered to cook for the family. Before you know it you're scrabbling in the freezer for an inspired and sumptuous meal and all you can find are a couple of ancient potato waffles and a bag of sprouts. Everyone's looking on, eagerly awaiting what wondrous creation you'll come up with. The pressure's on and you're praying someone will suggest you get a take-away from down the road instead!
Thai food is a great way to conjure up a tasty and mouth-watering meal at short notice while also impressing the rest of the family. Creativity is a key element in Thai cooking, allowing you to experiment with various left-overs and foodstuffs you happen to find in the kitchen.
Muslims comprise Thailand's largest religious minority and are concentrated mostly in the southernmost provinces of Narathiwat, Pattani, Yala,and Satun. Islam is said to have been introduced to the Malay peninsula by Arab traders and adventurers during the 13th century. Most Thai Muslims are of Malay descent, which is reflected in the unique cuisine of the region.
Here are some examples of quick Thai meals to please the health-conscious adventurous diner .
Pad Thai (Serves 4)
Ingredients:
1/2 lb. soaked rice noodles

3 tablespoons of fish sauce, to taste

3 or more tablespoons of tamarind juice the thickness of fruit concentrate, to taste

2 tablespoons of palm or coconut sugar, to taste

4 tablespoons of peanut oil

3/4 cup of firmly pressed tofu, cut into thin strips.

3-4 garlic cloves, crushed

3 shallots, thinly sliced (or substitute with half a medium onion)

1/4 cup small dried shrimp

1/4 cup chopped sweetened salted radish

2-3 teaspoons ground dried red chillies. to desire hotness

3 eggs

3 cups of fresh bean sprouts

1 cup of garlic chives, cut into long segments (optional)

Garnish: 2/3 cup chopped unsalted roasted peanuts

1 lime, cut into small wedges Grated ginger
1. Mix the fish sauce with the tamarind juice and palm sugar; stir well to melt the sugar. Taste and adjust flavours to the desired combination of salty, sour and sweet. Prepare the remaining ingredients as instructed.
2. Heat a wok over high heat. (Note: If your wok is small, do the stir-frying in two batches. The recipe may also be halved to serve two.) Add 2 teaspoons of oil and quickly stir-fry the tofu, frying
1 to 2 minutes, or until the pieces turn golden. Add garlic and stir-fry with the tofu for 15 to 20 seconds. Follow with the sliced shallots and cook another 15 seconds. Then add the sweetened salted radish and ground dried chillies. Stir and heat through for a few seconds.
3. Add the noodles and toss well with the ingredients in the wok. Stir-fry 1 to 2 minutes and when most of the noodles have changed texture and softened, push the mass up along one side of the wok. Add the teaspoon of oil to the cleared area, crack the eggs onto it and scramble lightly. When the eggs have set, cut into small chunks and toss them in with the noodles.
4. Add the sweet-and-sour seasoning mixture. Stir well to evenly coat noodles. If the noodles are still too firm, sprinkle 1 to 2 tablespoons of water over them. Taste and adjust flavours by adding more fish sauce or tamarind juice; if the noodles are not sweet enough, sprinkle in a small amount of granulated sugar.
5. When the noodles are cooked, toss in 2 of the 3 cups of bean sprouts and the garlic chives (if using). Stir and when the vegetables are partially wilted, transfer to a serving platter, or dish onto individual serving-size plates, and garnish with the remaining bean sprouts, lime wedges and chopped peanuts.
7. Squeeze lime juice over each portion before eating
Thai-Style Corn Soup
Serves 4
Ingredients:
2.5 ml/half teaspoon sesame or sunflower oil
2 spring onions, sliced
1 garlic clove, crushed
600ml/1 pint chicken stock
425g/15oz can of creamed corn
225g/8oz mushrooms
5ml/1teaspoon green chilli paste or chilli sauce
salt and ground black pepper
fresh coriander leaves to garnish
1. Heat the oil in a large heavy-based saucepan and fry the spring onions and garlic over a medium heat until softened.
2. Stir in the chicken stock, creamed corn, mushrooms and chilli paste or sauce.
3. Bring the soup to the boil, stirring occasionally. Season with salt and ground black pepper to taste, then serve at once, sprinkling with fresh coriander leaves to garnish.
Thai Prawn & Vegetable Stir-Fry
Serves 4
Ingredients:
1 lemon grass stalk
1 cm/half inch of fresh root ginger
1 large garlic clove
30 ml/2 tablespoons of sunflower oil
275g/10oz prawns
half red pepper, seeded and sliced
half green pepper seeded and sliced
4 spring onions, chopped
2 carrots, sliced
115g/4oz runner beans
pinch of sugar
salt and ground black pepper
crushed peanuts and coriander leaves, to garnish

1. Thinly slice the lemon grass. Peel and chop the ginger and garlic. Heat the oil in a frying pan over a high heat. Add the lemon grass, ginger and garlic, and stir-fry for 30 seconds until the garlic is golden and the oil is aromatic.
2. Add the prawns and stir-fry for 2 minutes. Then add the vegetables; stir-fry for 3 minutes, until the prawns are cooked and the vegetables are crisptender.
3. Finally, stir in the sugar and seasoning to taste and stir-fry for another minute or two to mix and blend well. Serve at once, sprinkled with the peanuts and coriander leaves. Rice is the traditional accompaniment.
Share this


Link to this
Printer Friendly