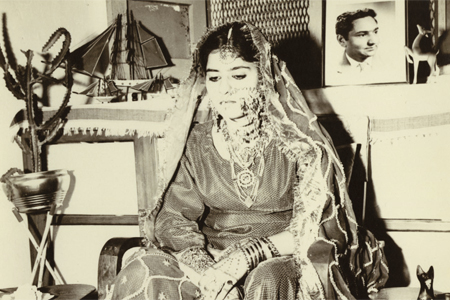 Samad and Kausar Ali: 40 Years of Marital Harmony
Issue 1 Sept / Oct 2003
Marriage is a rewarding aspiration for Muslims, yet is not without its challenges. emel uncovers the secrets of a successful marriage by exploring the wonder of relationships. Samia Rahman talks to Kausar and Samad Ali who have been married for 40 years.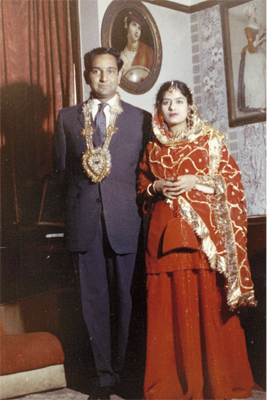 Kausar
We were married by proxy. My uncle, a diplomat in London, visited Karachi briefly in 1960 when my grandfather passed away. He took some family photos back with him and in 1961 wrote to my mother that he would be honoured if she would accept his son's marriage with me. She was overjoyed and was convinced Samad, an engineer, would be a great catch.
In the summer of 1962, in Karachi I had my wedding. I signed the Nikah Namar (marriage certificate) authorised by the Shah Jehan mosque in Surrey, in the presence of two witnesses, an attorney and a cleric who would perform the Nikah. Samad had already signed it in the UK and was not present. I sat on the stage wearing a red gharara bridal outfit and heavy gold jewellery. Next to me had been placed a framed photo of Samad so that people, though unable to shake his hand to congratulate him, could see what he looked like. To my relief they all approved of his looks. The ceremony went well, a mixture of loud music, delicious food and hundreds of guests in their best wedding outfits.
We all went home at night after the guests had left and I changed into plainer clothes. I felt like an actress who had just played the part of the bride! All my cousins, uncles and aunts, who had come to attend the wedding from other cities and towns were staying to see me off at the airport the next day, so we all sat up until late, girls were singing and dancing, aunts were chatting, telling each other hilarious jokes. The atmosphere wasn't at all of the kind that usually exists after the departure of the bride. It made the earlier ceremony seem like a theatre performance.
Everyone was regarding it as a great festivity except my mother who outwardly looked calm but there was a sense of uneasiness about her. She would rather have spent that time alone with me rather than attending to so many guests. And what about me? I was really unaware what a radical step I was taking. I had no thought to how I would feel at the time of leaving. I was just enjoying the excitement.
The time of rukhsathi (departure) arrived the next morning and I was bundled into a car, for the first time going out without my burqa, because it was felt it would be obsolete for me in England. I had to wear my red gharara wedding suit on my mother's instructions. The convoy of about 20 cars carrying my nearest relatives reached Karachi airport. Amid the hugs, tears, and calls of blessings and prayers I walked to the departure area feeling very alone. Leaving my mother behind was the hardest thing, I felt a wave of sudden melancholy and taking each step forward was very painful. I kept looking back to see if my mother was all right. When I boarded the plane I felt very upset and the tears rolled down my cheeks, I couldn't stop them. An air hostess moved fast towards me, comforted me and promised she would look after me.
It seemed the longest journey of my life – worry, fear, sadness and thoughts about what might be in store. I was a complete wreck by the time the plane landed at Heathrow. I washed my face, put make up on and composed myself to appear before my in-laws.
The customs officer took one look at my elaborate wedding dress and said, "Ah, a bride." Checking my suitcase, he asked, "and what have you brought for your husband?" "Just a sweater." I replied. He gave me a smile and let me go. Outside were waiting all my in-laws except Samad. I stayed with another family and at the weekend Samad came for me with the Baraat (wedding party). I got ready like a bride again and I sat quietly with the other women in a prominent place, looking down in front of me, as is the tradition. As the ladies came up to me one by one I felt like an exhibit in a show and the chattering going on around told me a lot about the life of the Muslim community in London.
Suddenly the rukhsathi was announced and I had to go and meet Samad. Coming down the stairs I happened to catch a glimpse of him. I recognised him from his photo and he seemed pleasant.
When we all reached his house, my father-in-law went indoors, brought out a bottle and poured some oil on either side of the threshold and said prayers for us. Then Samad held my hand and we entered the house in which we were to live as an extended family, a wonderful loving arrangement which I was very happy to be a part of.
What were my first impressions? I noticed he was a quiet person, occasionally he would look at me but would not say anything and I didn't know what to say either. In the evening both of us left to go to a hotel that had been booked for us and he started talking a bit in the car. To my relief he seemed to approve of me and said I looked better than my photo.
Today, 40 years later, I can say with confidence that 'marriage by proxy' has worked for us. We built up trust in each other very quickly and that made our relationship strong enough to survive every high and low point in life.
Samad
Since I hadn't been allowed to receive Kausar at the airport when she arrived from Pakistan, I asked my sister afterwards if she looked the same as in the photo, and she said she did. Of course, when we eventually saw each other at our wedding, I was reassured as she looked even better than in the photo.
When the marriage was being arranged, many of my friends and relatives kept asking me why I was marrying a girl brought up in Pakistan while I, myself, had always lived in the UK. My answer to them was that my father had met Kausar and approved of her and as I believed in his sound judgement, I trusted him to make the right decision for me. My father knew me better than anybody so I was sure it would work out. And besides, Kausar is a very intelligent educated woman. She had completed her Masters and was teaching in Pakistan before coming over here so I was confident she would handle the adjustment well.
I was very nervous on the day of our wedding, it was quite daunting. After the rukhsathi we came back to my home and sat around for a while as the rest of my family reminisced about Pakistan and asked Kausar how all the various relatives in Karachi were.
Later on, my new wife and I went to a hotel, and on the way I relaxed a little and decided to drive around the area to show her where she would be spending her new life. She was quite taken by Wimbledon Common, which looked very beautiful in the moonlight, with the big white sails of the windmill and the huge pond next to it. I had to explain what a 'common' was, which we laugh about now.
We have always got on well, and have been fortunate that things between us have always gone smoothly. We also trust each other and try to be caring towards each other which helps.
The day after the rukhsathi a visit had been arranged to the Shah Jehan Mosque in Woking for us to meet the Imam, who gave a lecture on the sanctity of marriage and blessed us. Someone suggested that we should have a registry wedding also but my father was dead against it and was adamant that Nikah was the only true marriage and made it clear he did not care for us to have a registry ceremony .
We had a Walima ceremony a week after that in Wimbledon Town Hall which was a very grand occasion with my father's colleagues – dignitaries from the Foreign Office and Pakistan Embassy officials as well as hundreds of family and friends. The local newspaper wrote about our 'marriage by proxy' and to be honest, most people didn't really understand the concept. Even today, the arrangement of marriages among Muslims is often misunderstood.
A few years after our marriage, immigration hit the headlines and Enoch Powell made his infamous 'Rivers of Blood' speech. It was a difficult time with heightened racial tensions and many fears and insecurities between and within communities. A friend of ours suggested we should register our marriage because new anti-immigration legislation was coming in and in a worse case scenario our 'marriage by proxy' may not be recognised.
Both of us agreed but my father was furious and felt we would be degrading our Islamic Nikah. We explained our reasons and he eventually reluctantly agreed and the entire family ended up attending the registry wedding. At the close of the ceremony the Registrar asked me to place a ring on Kausar's finger and for my father, that was the last straw and he stood up and angrily said, "She has already got the ring given to her at Nikah which is the real marriage." The Registrar was very gracious.
That was our sixth ceremony, leaving aside the pre-marriage Mehndi which I managed to escape but Kausar had in Pakistan. So you could say we're well and truly married now!
We've both given each other room to pursue our professions and interests without being critical of each other at any time, because we trust each other. Any marriage, whether it is a love marriage, arranged, or by proxy, can only survive if there is trust and compromise.
Share this


Link to this
Printer Friendly