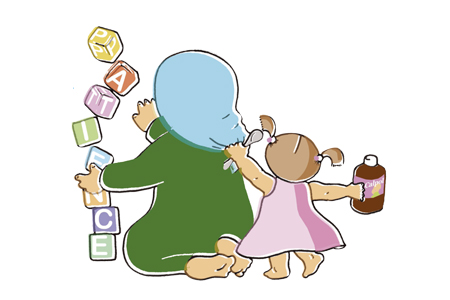 Diary of a Young Mother
Issue 1 Sept / Oct 2003
I sometimes wonder what it was like before the children came along. Forgive me for asking such a silly question, but I actually don't remember very well. As I survey the wreck of my bedroom, once a hallowed domain of neatness and order, characterised by delicate fragrance and radiating peace and tranquillity, I try to ignore the discarded toys, the heaps of clothing and the malodorous emanations from the younger child's derriere.
Three years and sixteen months respectively postpartum, I marvel that once there was a period in my life, only a few years before, when my evenings were mine to spend as I pleased, the clothes that I put on in the morning remained pristine all day and nights were uninterrupted save for the birds at dawn. My car was my own personal space, not taken up as it is now with a couple of hefty Britax strapped in the backseat, two pushchairs in the boot and My Hen is Dancing in the cassette player.
The presence of two very young children means that one's whole day is given over to their care and amusement. Feeding times are marathon sessions of coaxing, cajoling, wiping, refereeing and somewhere along the line you have to sing your entire repertoire of nursery rhymes. After dinner, cleaning can be another stupendous task, especially if the little darlings insist on helping.
Amid the sheer grind of being a full-time personal assistant (ie mother) to two very active young toddlers, it is often quite cheering to experience some flashes of pure fun. Toddlers can be either mindnumbingly boring or dizzyingly unpredictable and as you wearily try to keep up, the occasional burst of laughter or moment of revelation pulls you up short and makes you think that hold on, boredom is in the mind of the beholder, maybe it's me who's missing the point here.
Well, would I swap it all and go back to child-free utopia, I hear you ask? The answer is of course not, because at the end of the day it's not all that bad and there's plenty of good. We see our destinies encapsulated in our children's lives and the realisation hits us that the buck stops here, that this time it's for real. There's no turning back, no asking for a new deadline – if you want to produce worthwhile goods you have to work jolly hard. But it's not always a grind – as you witness the many small miracles that take place amid the minutiae of everyday mundane activities, you realise that you are a party to a complex and sophisticated miniworld, one which will one day take its place in the real world. The lessons learnt will have their effect in the grown-up sphere, for good or for bad, echoing one social commentator who remarked that the nation was built in the nursery. And just imagine, we have a hand in this, a major influencing one. But as we get back to the slog and the grind, just remember, don't forget to smell the roses, or even the lavender scented nappy sacks.
words: Shakina Chowdhury
Share this


Link to this
Printer Friendly