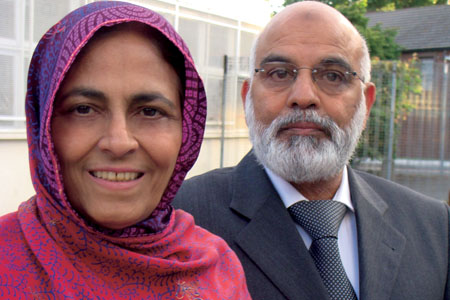 From Lahore to London
Issue 57 June 2009
Treading into the unknown, Rahila and Fazal bridged barriers by learning to value qualities about each other. After thirty four years of marriage, they relate how they discovered the true meaning of companionship.
FAZAL
In 1975, my family and I went over from London to Pakistan for a family holiday. I was working as an accountant at the time, and took some annual leave to go over. While we were there, my parents thought that they might as well arrange my wedding while the family were all together! The whole wedding took two weeks to organise. Imagine my boss's shock when I called him up to ask him for another two week's leave to get married!
The type of girl I was looking to marry was a traditional Asian girl with a modest outlook on life. I actually said to my sisters 'If you like the girl, I'll marry her'.
Given the family connection, I had actually seen Rahila a few years before our marriage at her elder sister's wedding. I also used to play badminton with her brother, but had never formally met her. On our wedding day, Rahila was very shy. This was normal for the period. My first impressions were thank God, I've got a good wife!
On our wedding day, Rahila's younger sister brought me milk and ladoo (Indian sweetmeats) as part of the traditional Pakistani dud palai (milk-giving) ceremony. Rahila wanted to feed me the ladoo herself, and to my surprise she stuffed the entire ladoo in my mouth! Moreover, it was really salty. I was so shocked I bit her finger and I think she had a bandage on her finger for a few days afterwards!
Another funny incident from our early days of marriage is the fact that we didn't realise the other spoke Punjabi until a few days into the marriage. The common relatives we had spoke Urdu, so our families assumed that we spoke Urdu too. We therefore initially spoke Urdu for the first few days of our marriage. I was shocked to hear Rahila speaking Punjabi to her brother when I went over to my in-laws house. It's been a habit that's stuck ever since!
We came back to London and lived with my sister for a year and a half. Hamza, our first child, was born in less than a year.
What I admire about Rahila is her adaptability. She adapted herself to me and my family very quickly. She is very caring, and looked after everybody. My sister was working during the time we were living with her, and Rahila looked after her kids during the day. She was hard working and managed to look after Hamza, and run errands such as going shopping during the day, even though she couldn't drive and the shops were far away. Rahila is also very pleasant and gets along with everybody. She is active and sociable and makes friends in little time. She's also creative - she knows what looks good together. She did everything related to the house. I rely on her for matching my suits, as she knows what colours go together!
I admire the way she has brought up our four children with good manners, and imbued them with an understanding of religion. She did this despite the fact that there were no facilities around to support religious learning or teach Quran. She has also brought up the kids to have self-respect, as well as to have respect for others. As I worked long hours, she did this by herself.
In terms of personality clashes, I was a lot more western than Rahila, as I had lived in the UK before I got married and had worked for an American company in Pakistan, whereas Rahila was one hundred per cent eastern. I remember that at our wedding do here Rahila wouldn't shake hands with my colleagues, something I didn't agree with at the time, but realised was the right thing to do later on.
I also used to be short-tempered, which I've improved on, through my marriage to Rahila.
We have both adapted ourselves, which is why we have had a successful marriage. If you want to make a house a home, you need to respect what your partner thinks.
My advice to young people is not to be too materialistic in their search for a partner.
RAHILA
I first met Fazal on our wedding day thirty four years ago. It is difficult to recall any first impressions as I spent most of the day with my gaze down, as I was very shy and hadn't met many boys before.
Prior to this, he and his family had come to our house to have tea and ask for my hand in marriage. On that occasion, my cousins had encouraged me to sneak a look at him through the window – which I did. However, I couldn't see him properly!
In those days it was traditional to have an arranged marriage. Fazal was related to my extended family, and it was these mu-tual relatives who first suggested the match to my family. I wasn't nervous about getting married as I trusted my parents, and knew that they would make the best choice. At the time, I was twenty five years old and living with my family in Lahore. I had just completed my teacher training course at the time, so was ready to get married.
Fazal was living and working as an accountant in London, and I moved from Lahore to London a week after our marriage. Al-though it was a daunting thing to do, I felt confident and had complete trust in God, my family and my husband. A key strength of mine is the ability to adapt, and I was able to adjust quickly to my new life.
I would describe Fazal as clever and intelligent. He has seen more of the world than I have. He was very active in the com-munity and was studying for his chartered accountancy qualification when I came over. What I most admire about Fazal is that he's kind and responsible. He has fulfilled his responsibilities in every aspect of his life. He looked after his family and he helped look after our children. When the kids were young and woke up in the night, he would also wake up and feed them. We had an equal partnership. He loves children and is a very good father. He has always helped the children and tried to educate them in the best way. He also tried to take them on outings from a young age. We were camping in France when our son Hamza first started to crawl.
Ours was a traditional marriage in the sense that Fazal worked and earned the money, whereas I ran the house. He tried to help around the house, but was never very good at painting or fixing things. When I hinted about how I didn't like his handiwork, he quickly brought in someone professional!
Fazal can get angry quite quickly. When he does, I stop talking to him, and let him calm down. That's my weapon! Then he feels bad, his mood gets better, and he tries to chat to me and cheer me up.
Young people think that you have to have similar hobbies to be compatible. I don't think that's true at all. Fazal and I have very different hobbies and interests. For example, he likes going on holiday whereas I don't, unless it's Pakistan or Mecca! He likes going to the cinema, whereas I think that sitting in the cinema in the dark for three hours is a waste of time! I much prefer going to visit people. Fazal is romantic in that he will buy presents for me for most of my birthdays and our anniversaries. We're very different people, and have very different interests, but fundamentally we care about each other. When his parent died, and my father died, we were there for each other. That's what marriage is about.
My advice to young people is that marriage has ups and downs. Both good and bad things happen, but it's important to make it work. And to do so, it's important to have patience.
Share this


Link to this
Printer Friendly