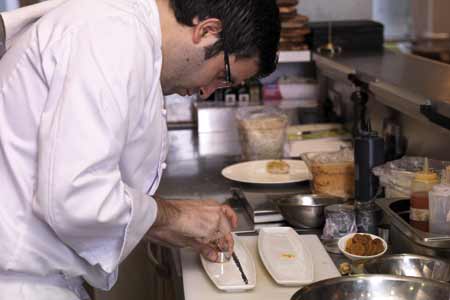 Saf Restaurant
Issue 57 June 2009
Saf Restaurant
152-154 Curtain Road
Shoreditch, London EC2A 3AT
Review by Myriam Francois-Cerrah
I received the news that I was to be reviewing a vegan raw-food restaurant with about as much enthusiasm as my next dentist appointment. In fact, I'll even admit to some dread as I strolled up trendy Old Street, passed its uber cool residents, but my negativity was curtailed on finding the surprisingly suave Saf restaurant.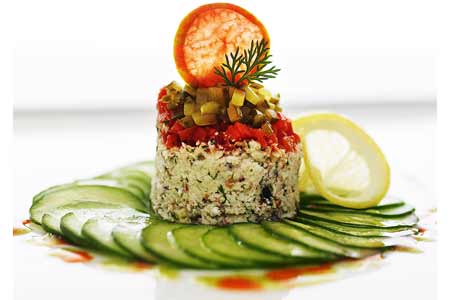 In line with the eatery's ethos, everything is slick, modern and eco-friendly, even the hand-drier! With high ceilings and bright walls, decked out with the hippest accessories, from flame-like lamp shades to Chinese style tea pots, Saf has got the coolest décor to match its coolest of menus and food presentations. Forget long-haired hippies eating oats soaked in water (they used to come, but the new clientele has driven them out), Saf lures you into healthy eating by providing such an exciting set of dishes, you'll completely forget that animal derived products even exist! In fact, you'll feel like even thinking about a steak would be like attending fashion week 2009 in the 2006 collection – way too un-cool.
We were eased into the experience with a choice of non-alcoholic cocktails, a number of which are flagged up as providing a natural detox. Inspired by the idea of healing myself through food, rather than its avoidance, I sampled the Mastercleanser, a potent combination of lemon, ginger, chilli, apple and agave. The kick on this drink would have Beckham weeping, but it managed to balance it with a sweetness which actually rendered it very moorish – I was sold – if only being healthy were always this easy…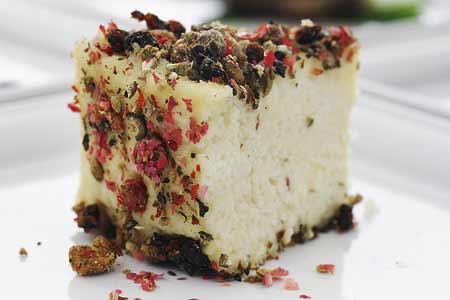 My better half tried "Longlife" a combination of green apple, cucumber, orange and blueberries and was equally enamoured with the ease of the detox experience. For starters, we selected spring dumplings, woodear mushrooms, tofu, carrot, caramelised onion in little sculpted parcels, dipped in a black vinaigrette, and a mezze plate, with babaghanoush, humous with harissa, quinoa salad, olives and dolmas, served with flat bread. The mezze was sensational, both in its arty presentation and in flavour, with a unanimous decision that the babaghanoush was the best we'd ever had, though there was some dissension as to whether that was down to the organic ingredients or simply their freshness, since all ingredients are brought in daily from organic farms.
The dumplings were a marvellous discovery, the vinaigrette adding a welcomed sharpness to the sweetness of the vegetables. Our second course was a cheese tasting platter for two, which effectively was slightly misleading given that none of the cheeses are actually cheeses and are more like nut pâtés. This did not however take away from the taste explosion on offer in this array of beautifully crafted 'cheeses': macadamia nut rolled in herbs, sun-dried tomato salsa cheese and kalamata olive relish, cashew cheese with sage pesto, all served with scrumptious crispy flax seed crackers, the texture of which is perfectly suited to the creamy and rich garnishes.
For mains, I enjoyed a root vegetable tart, made from a thick buckwheat shell encasing cashew creamed spinach, topped with pickled onions, semi-dried basil tomatoes and with a side of gorgeously seasoned rocket, while my husband ordered Pad Thai, courgette noodles, enoki mushrooms, mung shoots and chipotle almond sauce, a crunchy and zingy combination which bore little resemblance to the dish it is named after, but was delightfully light and fresh. By the time dessert came round, there was very little room left, but we squeezed in the Chef's Daily, a delectable, crumbling apple and blackberry cake with vanilla sauce, and the equally luscious Chocolate Ganache Tart with pear sorbet and cacao syrup, a rich and indulgent finish to a tongue-dazzling culinary experience.
We ended the meal with a well-needed pot of fresh mint tea to aid digestion, served in charming ceramic cups. I'd imagined Saf would be a one-off culinary experience, to test how the other side dines, but it is clear from the mainly meat eating clientele that Saf doesn't just offer a venue for vegans, it offers an alternative dinning experience which could match in flavour, presentation and dècor, the top mainstream eateries in town. It has on its side charming staff who clearly believe in the food they are serving and offer a personalised service the likes of which is often lacking in other such trendy food joints. It is testimony to the quality of the food and tastes on offer that we didn't even miss meat or even cooked ingredients during our meal. Saf will remain on my food radar as the place to head for a different kind of meal, but one which absolutely won't disappoint. A three course meal starts from £20.
Share this


Link to this
Printer Friendly