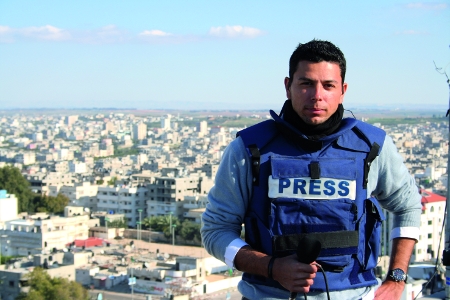 Ayman Mohyeldin
Issue 57 June 2009
As Gaza correspondent for Al Jazeera English, Ayman Mohyeldin faces new challenges every day from fatigue and hunger to issues of personal safety. He relates how being a witness to history makes it all the more worth reporting.
I am the Gaza correspondent for the Al Jazeera English news channel. In that capacity, I report from Gaza, the Occupied Palestinian Territories, Israel and occasionally the broader Middle East on recent developments in the region. I report on the situation in Gaza, politically and socially and the struggles of the people here.
My week varies all the time. On one hand we plan a series of feature stories, in-depth pieces or investigative reports on developments in Gaza. At the same time, we are prepared to respond to any breaking news. We are constantly trying to follow the rapid political and social developments in Gaza and the region, so my job requires a lot of travelling in between Gaza, our bureau in Jerusalem and the West Bank.
What I value most about my work is that it gives me the chance to be a witness to history and to document it for people around the world to see. It gives me the chance to meet amazing people and hear directly from them about their lives. My work also gives me a chance to be in places and situations that I would never normally be in.
No two days are ever the same as a journalist. I face a lot of challenges from the ordinary to the extraordinary. Depending on the environment we are working in, I can be faced with logistical challenges, security challenges or personal challenges such as fatigue or hunger. During the recent Israeli war on Gaza, our team reported for nearly 18–20 hours a day non-stop for 23 days. It was physically gruelling and very dangerous. At the same time, we are often reporting from very difficult areas with limited technical resources.
Throughout the war, I was inspired by my colleagues at Al Jazeera Arabic. Even though I lived through the war in Gaza, I didn't live it like they did. I don't have family in Gaza, I don't have a house or property or extended family to worry about. My colleagues in Al Jazeera Arabic actually lived the war and still came to work every day. Every single one of the people in our office was affected by the war. One of our correspondent's house was hit by a shell, the other had their property razed by tanks, and another was trapped in her building as the Israelis shelled all around it. And yet despite that, they were determined to report even though they were under enormous personal pressure. That for me was inspiring and gave me the strength to report for those 23 days no matter how difficult it was.
I don't think there is a set criteria for one to be a war correspondent. I don't think people set out to become one, but I do think they are drawn to certain stories that inevitably become war related. I didn't want to cover Gaza because I thought a war would break out, but because Gaza is so integral to understanding what happens in the broader Middle East. I wanted to go to Gaza because I wanted to report the suffering that was taking place, which I felt then was being ignored by western media. When the war did break out, it was important for me to keep things in perspective and not get caught up in the moment. I knew I had to stay calm despite the anxiety I was feeling, and I think that's the most important thing for war correspondents to do. It's alright to be emotional but it's important to focus and channel that emotion into your work professionally.
I am working on some interesting stories including the exploitation of people in Gaza who are being recruited as spies and informants. I am also looking at how Palestinian factions are trying to overcome their differences and trying to reconcile them amidst the aftermath of the Gaza war, a new rightwing Israeli government and a new American administration. I would always like to remain involved in media in some capacity. Whatever I do in the future, whether it is journalism or films, I will always try and work in between the Middle East and the West. I believe with my background, with one foot in each world, I can serve as a bridge to close the gap of misunderstanding that exists between the two through reporting, hosting a programme or even producing films.
Share this


Link to this
Printer Friendly