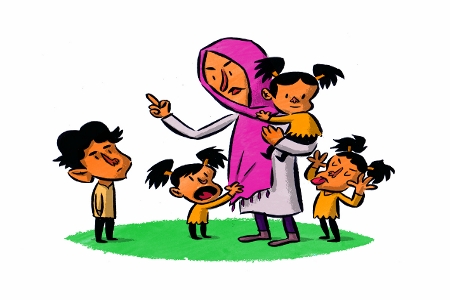 Hairy Tales
Issue 57 June 2009
It was that dreaded time again: a chop for the children. In other words, a haircut. In the past, I have always managed to perform the DIY coiffure job at home, constantly nagging my children to sit still. In the beginning it had been easy to get away with my amateur attempts at hairdressing; if the result was truly dire, I could always hide my handiwork under a combination of hairclips and colourful headbands. Yet , what led to the current mutiny against home haircuts was when I accidentally cut Maria's ear! Obviously, it was only a non-lethal little nip, however my children remained wholly unconvinced about my ability to safely cut their hair. Needless to say, a trip to the hairdressers was planned.
Hakim vociferously made his opinion known. "Mum, I don't want to go to a hairdresser. It's for girls!" "I can't take the girls to one place and you to another," I reasoned with him. After booking them all a slot together we turned up at the local hairdressers and waited our turn.
Hakim strategically chose a seat hidden by a plant, in an effort to avoid being spotted by any passersby. Once settled, our attention was diverted by a woman with several metallic strips in her hair. My girls just stared. "Why does that lady have metal hair?" asked Sobia audibly. Maria considered this for a moment, and then replied with certainty. "She must be a robot; she's just come in to have pretend hair put on so she can look like a person." The Robot Lady smiled at them but both girls moved seats to get as far away from her as possible.
All three of my girls find loud sounds objectionable and they looked worriedly at me when they heard the clippers and noisy hairdryers. However, Maria bravely went next and started chatting to the hairdresser. All was going well until she proudly announced: "I have nits!" The hairdresser nervously looked at me and I hastened to reassure her. "That was last year, don't worry – they're all gone now." She gave me a distracted smile and proceeded to swap combs and scrutinise Maria's hair thoroughly before giving her the all clear and proceeding.
As if that wasn't embarrassing enough, when the hairdryer was switched on, the sound panicked Maria who tried to leap off the chair, getting entangled in her gown and falling into a mess of hair piled on the floor. The other two were even more anxious by this point and the only way they agreed to having their haircut was while they sat in my lap amidst all the foreign noises and smells. And of course no hairdryer.
We set off for home: three wet heads and one sulking 11 year old. I wondered if my DIY haircuts were all that bad in comparison. After that visit Hiba seemed to have been inspired to set up her own hairdressing salon with dolls and teddies. After noticing she had been particularly quiet one day, I went to check up on her. She had managed to get hold of a pair of sharp scissors and had proceeded to hack the hair from the head of her doll. She was now proceeding to cut chunks of fur off her teddy with the same enthusiasm. "What are you doing?" I cried. "I'm just cutting their hair mum; it had grown far too long." "Toy hair isn't like ours!" I exclaimed. "It doesn't grow back." Before I could take the scissors off her the doorbell rang and I had to attend to the delivery man. I wasn't gone for more than five minutes but that was more than enough. I returned to find Hiba had cut a large part of hair from the side of her own head and was now trying to remove a chunk of hair from above her forehead. "Hiba!" I shouted, snapping the scissors from her."What have you done?" "But mum, it's ok! Remember, my hair grows back so I CAN cut it!" I looked at my four year old, smiling calmly at me, with a short stump of spiky hair above her ear, and was speechless.
After that, I took care to keep hairdryers and scissors far beyond sight and reach, and I thought that would be the end of our hairy woes. I didn't anticipate what would happen next. The other day Granny came to visit. She has long hair and doesn't mind the girls brushing it. They made an idyllic scene, Granny sitting out in the sunshine with her granddaughters; her hair all undone and her eyes closed. Sobia, my two year old wandered indoors. "I can't find a brush," she complained. " There's one in the bathroom." I instructed.
I didn't see her go out as I was preoccupied in the kitchen. Screams from outside eventually got my attention. Sobia had taken the toilet brush out and had started brushing Granny's lovely locks with it! I don't think Granny is going to play that game with her eyes closed again.
Share this


Link to this
Printer Friendly