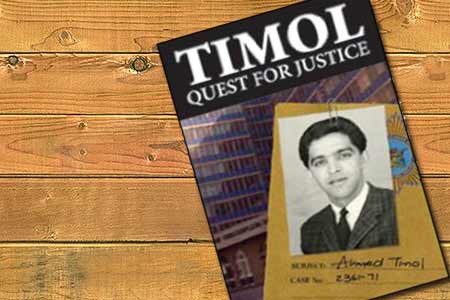 Timol: A Quest for Justice by Imtiaz Cajee
Issue 57 June 2009
Timol: A Quest for Justice by Imtiaz Cajee
Review by Hyder Abbasi
Outside of South Africa, the name Ahmed Timol is not well known. But as the author Imtiaz Cajee, states in the introduction to Timol: A Quest for Justice, Ahmed Timol "is one of the celebrated murder victims of apartheid South Africa". His name is mentioned alongside other anti-apartheid activists that shared a similar fate, such as Steve Biko and Imam Haroon. Indeed, the forward to this book, by former President Thabo Mbeki evinces the importance of this figure in the struggle against the repressive policies of this era.
Ahmed Timol died after falling from the tenth floor of the John Vorster Square police station in Johannesburg in October, 1971. Timol's death was part of a strategy of the racist government of that time to crackdown on movements that challenged the status quo. The official verdict into his death judged that Timol had jumped from the building with the intention of committing suicide. However, as Cajee conveys, there is enough evidence to show that Timol had in fact been thrown by his torturers.
Imtiaz Cajee is the nephew of Ahmed Timol and he states early in the book that he wishes to rectify the many wrongs perpetrated against his uncle and his family. But another aim is to "reclaim" Ahmed Timol as a person and to "know" him more intimately. Cajee was five years old when his uncle died and thus his memories of him were very faint.
Ahmed Timol was born into a nascent Indian muslim community in South Africa and whose family had emigrated from Gujarat. Like many other students at this time, Timol became active in movements such as the Transvaal Indian Congress and the African National Congress. As a teenager he attended the funeral of Suliman "Babla" Saloojee, a clerk whose death grimly foreshadowed Timol's own in 1964, as he too was thrown to his death by police officers. Saloojee was an active member of the ANC, even after it was banned in 1960. His death was the price he paid for being a dissident. It was this event early in Timol's life that spurred him to campaign against the racism and the iniquity of that time.
Imtiaz Cajee explains how, although a practising muslim, Timol went beyond fighting the cause of his own community and united with other communities to campaign for self-determination. Timol is reported to have said: "you cannot be a good muslim and not fight apartheid". He lamented the situation of the black community who he believed suffered far greater oppression than the Indian South Africans. Timol embraced communism, but did not see a conflict between his politics and his faith. As Cajee says, Timol was an internationalist and also supported other groups and causes such as the Palestine Liberation Organisation and the Algerian War of Independence.
The author creates a strong impression of a man burning with a desire to create equality amongst his fellow countrymen, whether black, white or Indian. Through numerous reports we are informed of Timol's dedication to tackling South African apartheid. This is shown as he sacrifices personal love and comfort, travelling to Moscow to further his knowledge of communism, with the aim of returning to his homeland to support the resistance.
Cajee conveys in great detail the personality of Ahmed Timol. From the scrupulous way that Timol would dress and groom himself, to the great affection he held for his "comrades" and of course his untiring efforts to effect change in such a suffocating environment. Almost every page is permeated with warmth that is expected from a family member. In doing so, the author fulfils his aim of familiarising the reader with the person, Ahmed Timol, rather than focusing solely on his political career. However, Cajee's love for his uncle can get in the way of the narrative as he routinely digresses into painstaking details; consequently slowing down this enlightening story of a relatively unknown political idealist.
Share this


Link to this
Printer Friendly