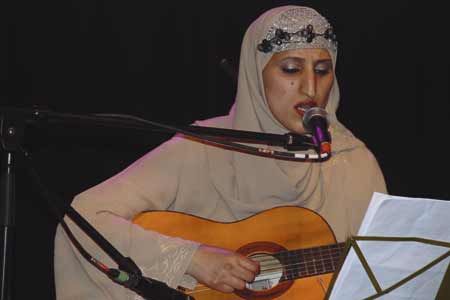 Muslim Women Music Makers Tour
Issue 57 June 2009
mwmmusic tour

Review by Tyrone Rana
mwmmusic – looks as though you're almost trying to say mmmm music! However it stands for something a little more significant; muslim women music makers. mwmmusic is an international tour presenting the most innovative, ground breaking and cutting edge quality music which has been developed, produced, written and performed by muslim women. They range from a vast number of cultural backgrounds (from Danish to Pakistani, from German to Dutch and of course from within the UK), resulting in an impressive fusion of soulful, Eastern and hip hop sounds that just blows away the conventional images of muslim women clad in burkas and shooed into the background.
The performers themselves included Sarah Yaseen, a singer taught by her father. She is inspired by her faith and composes her own lyrics promoting love and peace. Then there is Bad Brya, born in Amsterdam. This Moroccan MC left the audience feeling uplifted. We also were entertained by Sarah Sayeed, a London based MC for the younger generation, whose vocal performances are mainly about female independence and political misdemeanours. Further performances were brought forward to us by Jasmin , a 19 year old Danish singer with Middle Eastern roots, who really showed the audience how East meets West in music. Then there was my favourite of the evening, Simona Abdalla. She was born in Germany to parents of Palestinian heritage. Simona is a self-taught player of the rather masculine Arab percussion instrument called the darbuka. She demonstrated to magnificent ability that women can do well in a man's world! It was absolutely fascinating just watching her play, fusing together great western sounds (including house and techno) to more traditional Middle Eastern rhythms.
Overall, it was an enjoyable evening had by all. So if you want something that will open your eyes about muslim women performers, this is the one show to go and see!
Share this


Link to this
Printer Friendly