Jom Makan Restaurant
Issue 58 July 2009
Jom Makan Restaurant

5-7 Pall Mall East, Trafalgar Square, London, SW1Y 5BA
Review by Mahmud Hasan

Literally meaning 'let's go eat' in Malay, Jom Makan is situated a pebble-throw away from Nelsonís Column in Trafalgar Square. Such a location brings in a regular stream of resident diners as well as tourists from around the world. Serving unpretentious Malaysian cuisine, with an emphasis on freshly cooked dishes, the restaurant has just celebrated its first year in business. I went along with the family; for the children it was their first experience of a Malaysian restaurant in London. We were welcomed by the cheerful Mustapha, director of Jom Makan.

The drinks menu excited the children and they gleefully ordered a mango, melon and lychee juice (£2.80), a straight forward orange juice (£2.80), a kiwi, banana and grape smoothie (£3.40) and a banana, strawberry and orange smoothie (£3.40).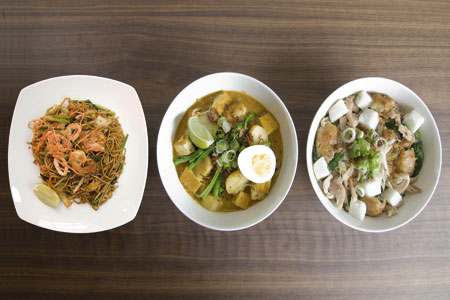 The food menu rather challenged their language skills. For starters, we had Popiah Sayur fried vegetable spring rolls (£3.20), Kerabu Daging - grilled beef with asparagus salad (£4.60), Ayam Goreng Berempa - fried spicy chicken (£4), Udang Goreng Tepung - deep fried prawns in batter (£4.50) and Telur Dadar - onion and chilli omelette (£3.50). We shared the starters between us so everyone got a taste. Surprisingly, the omelette came top, followed by the spring rolls and the prawns. All the starters came very well presented. We then had a selection of beef and chicken satay with traditional peanut sauce. This is obviously a speciality of the region and went down very well with everyone.

Before the main course, we took a short tour of the restaurant and saw the open-plan kitchen. All preparation and cooking is done within sight of the customers so you can lovingly gaze ñ if you so wish ñ at the raw ingredients being turned into your delightful meal. Further along is a private function room that can seat around forty. Tastefully decorated in wooden panels and local artwork, the function room has IT facilities for presentations at a business lunch. And to top it all, there ís a small room for prayers.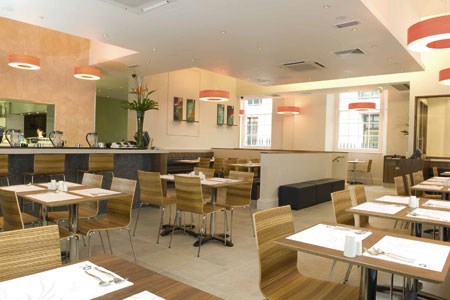 Back to the main dining area, which accommodates about 150 diners and was fuller than when we had started our tour, our main courses arrived very shortly. The Nasi Goreng ñ spicy fried rice with prawn, squid, chicken and vegetables (£7.80) could have been spicier. I got the feeling the chef was toning it down to accommodate the local palette. The Nasi Lemak- coconut rice served with crispy anchovies, peanut, cucumber, boiled egg, beef rendang and squid sambal (£8.20) was much more authentic and enjoyed by both adult diners. The Nasi Goreng Cina - fried rice with chicken, prawn, spring onion and green peas (£7.80) was again slightly under spiced, but went down very well with the children who quite happily shared it between themselves. The Ikan Masak Cili Api salmon fillet cooked in a spicy coconut sauce with okra & tomato (£8.50) came as a larger than expected portion. I did not think okra and fish would mix well, but the taste was interesting and the fish was delicately cooked. The Mee Hoon Goreng ñ fried vermicelli noodles with chicken, seafood, egg & vegetables (£7.60) was a standard noodle dish with chunky pieces of chicken and fish. Again, I thought the flavouring could have been more enhanced and the chefs ought to perhaps be a tad more courageous. Malay cuisine may not always have the strong powerful smells or flavours of Chinese cuisine, but in its own way it is very tasty and the chefs at Jom Makan need to be bold enough to reflect the authentic Malay tastes.

Well, after filling ourselves on large portions of freshly cooked main courses, we were still tempted by the delightful desserts: Mango Coco, Pandan Cream Caramel and Sago Gula Melaka. All three were beautifully presented and tasted superb ñ we could have ordered more!

Overall, a pleasant dining experience. Very good and prompt service with attention to detail. Prices are not so expensive, considering the location and the food was healthy and wholesome. I definitely recommend Jom Makan next time you are down in London to taste the diverse culinary delights this great city has.
Share this


Link to this
Printer Friendly