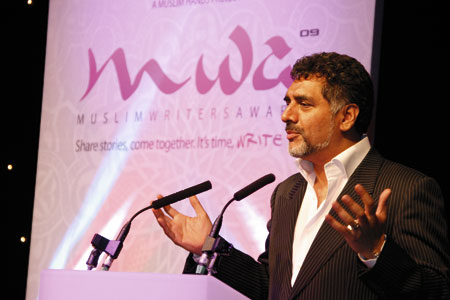 Muslim Writers Awards
Issue 58 July 2009
Muslim Writers Awards
Gala Dinner, Park Lane Hilton
Review by Musa Ali

The third annual Muslim Writers Awards took place at the plush venue of London's Park Lane Hilton. The mother of all gala dinners drew forth from its bosom the cream of Muslim artists and pioneers. Name droppers like James Caan, show stoppers such as Khayaal Theatre, and word shockers like poet Amir Sulaiman from the US, all gathered together to serve as inspirational presences in a night to remember – and a night to be recorded: the event was televised to a potential of 400million viewers worldwide.
Unlike countless other dinners, the Muslim Writers Awards set out to make a difference, and a sophisticated, well thought out evening did not fail to impress. James Caan gave a stirring keynote address which allowed him a well earned plug for his autobiography. Among the entertainment was a formidable beatbox cum flute player, followed by the didactic performance of the Khayaal Theatre company who acted their hearts out while people ate to their hearts' content. At this point I must say that while the more carnivorous-type guests may not have been too pleased, the European menu of succulent fish and vegetables was a welcome relief from the bog-standard biryani.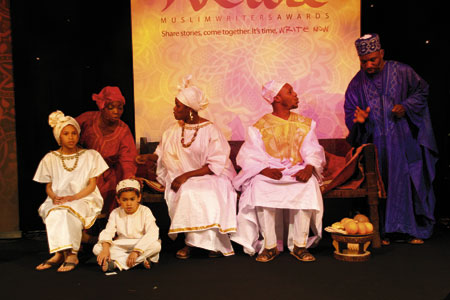 To present the evening's proceedings was emel's very own comment writer Shelina Janmohamed, who went on to win the category of Best Published Non-fiction for Love in a Headscarf. Faisal al Yafai also did emel proud by receiving the award for Best Journalism. The ninth and final award of the Awards ceremony was the Muslim Hands Writer of the Year award which went to an astonished and humbled Humaira Rashid, who was commended for her short story, Crash and Burn.
This much needed and long overdue initiative, instigated by Muslim Hands, calls upon and hones the literary creativity that lies amongst the Muslim community. In just three years, the Muslim Writers Awards has taken an astonishingly huge stride towards establishing itself and generating a greater potential of quality writers. With the maxim of 'Make a Difference, Write Now', Muslim Writers Awards will show that the pen is certainly mightier than the sword.
Share this


Link to this
Printer Friendly