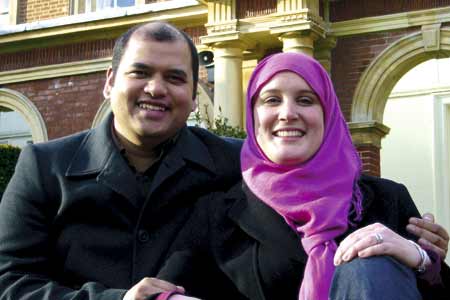 Food for Thought
Issue 58 July 2009
After embracing Islam, Fatimah wasn't looking for anything but friendship, but finding a fellow foodie in Atha led to a change of heart.
Fatimah

Atha and I first met in October two years ago after an Emerald Networking Eid event. A group of us decided we weren't ready to go home after the restaurant closed, so we all went over to Tinseltown. I ended up in the same booth as Atha, and my friend and I chatted a bit to him and his friend. But I didn't really speak to him much that night; I definitely wasn't looking to get married at the time. I had only embraced Islam about six months previously, and was still getting used to the many changes that entailed. Marriage was definitely not on the radar for me – I only went to Emerald to make new friends.
So the next evening, when a mutual friend called to say that Atha was interested in exploring things with me, I explained that I really wasn't looking and turned him down. But not entirely. I had thought he had potential, but I wasn't in the right place at the time. We didn't see each other again except to give salaams for another six months, when we met again at an Emerald Art Auction in aid of Walou, a charity for Moroccan street children. We spoke a lot more at that event, and by that time things had moved forward in my life. I still wasn't really looking for a husband, but I was mindful of the saying "if you meet a man who is appropriate for you in character, then marry him".
I was actually interviewing at the time for the Doctorate in Clinical Psychology, and had my first interview only four days later. It was at my preferred university, and I was offered a place. However I had really enjoyed meeting Atha properly, and I knew that if I accepted this university offer, it was in the wrong location for us if we got married, so I held off to see where things would go. Three and a half weeks later, we agreed we wanted to get married and were engaged within a fortnight after I met his parents.
I went to a different university. It was a crazy rollercoaster time for us. A lot of people were surprised we could make such life changing decision so quickly, especially my non-Muslim friends. But I had made my istikharah (prayer for guidance) and put my trust in God.
We booked our wedding for seven months later, in the school holidays. In the meantime I had to move house and start my doctorate, which meant a busy lead up to the wedding! We organised most of the wedding ourselves, except a mehendhi party his mum and sisters organised for us. We were very fortunate and alhamdulillah things went pretty smoothly.
The worst moment was when the booking Atha had made for the Nikah seemed to have been lost, which we discovered the night before it was planned. I think it was pretty tough for him to make a phone call to me saying the most important bit, and the bit he had sole responsibility for, seemed to have gone awry! But fortunately East London Mosque was very helpful and we were able to get married there, even if it was in a classroom. The main thing was that we did it. It was wonderful to be able to have my immediate family there, and they even wore headscarves for the occasion.
Getting married has been wonderful, but also hard work. It is a big adjustment for both of us, as one would expect. In particular learning about a new culture, and adjusting to my new family, has been a big learning curve, one which I am very much still on. We both come from large families so there are a lot of new people for us to get used to. But I feel that our love grows every day. We are a good balance for each other, and though we are different I think we complement each other well. I definitely feel much stronger in this partnership than I ever did on my own.
Atha
The night I met Fatimah at Tinseltown, we were the only two in the booth who ordered waffles. Perhaps that's what got me interested, as I knew it was important that I was with someone who appreciated food. However, it wasn't until a long six months later that we really had a proper conversation, which I remember distinctly.
We had a fabulous conversation about Marmite (which I now love), and then I plucked up the courage to ask our mutual friend to approach her a second time. This time she was keener to explore things further, so we did. The main thing I was worried about was the differences in our backgrounds and how my family would accept her; as I come from a Bengali family and I am the only son. However, when she met my parents, they were pleased with the decision, so we got engaged.
It all went so smoothly, by the grace of God, which had not been my experience of the wife-finding game in the past. I had been looking for a long time, so to find someone with whom things seemed to be so easy was refreshing, and boded well for the future. It was promising that decision-making seemed so wonderfully straightforward.
The wedding planning also went well, apart from a minor blip with the Nikah, which was my responsibility. But afterwards we had a fabulous Walimah reception, with a big pudding reception, chocolate fountain, and cake from Patisserie Valerie. We planned lots of activities to keep the children entertained, as we knew there would be quite a few from our families: activity boxes, a ball pit, soft play toys, remote controlled cars, table football and a giant scalectrix. We both love food and fun, so it represented us really well.
Getting married has been a life changing event. I have to pick my socks up off the floor for a start, and I even have to make the bed. But when my new wife was kind enough to tidy my room I found some useful things, like the registration document for my car and my passport, so there are some benefits I suppose!
As personalities we are different. I take a laid back approach to life whereas Fatimah has a more prepared way of approaching matters. She owns a diary and I don't. It hasn't ever lead to major clashes but we have worked out ways to resolve things through discussion and compromise. She discusses and I compromise.
As I married in my mid 30s, I had a good understanding of myself and knew my strengths and weaknesses. I don't think that has changed dramatically. But what has changed is the fact that I have someone living with me and who I have to make joint decisions with whereas in the past they were solely based on my needs. I have also learned that I can work the washing machine, mop the floor and do other household chores!
Married life becomes busier. You become one unit, and have to add the other person's life to your own. You want to do things together, and if you both already had full lives, you find that some things no longer get the time they used to. You think you can maintain the time you devoted to family and friends but it's not possible. I've had to organise my time far more than I expected. Life has changed but the reality is that I knew it was going to change; life doesn't stay still forever.
One of the things I admire most about Fatimah is that she embraced Islam. I can imagine how difficult it must have been to tell her parents and the rest of society that she disagrees with what they believe. Being different in terms of religion and culture was difficult when I was growing up too, so I value that she has made this active and difficult choice. I also love her sense of humour, though she is not as funny as me!

Share this


Link to this
Printer Friendly