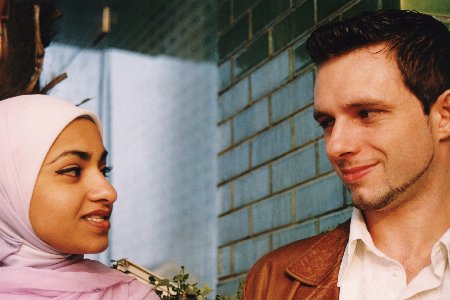 Muslim Marriage- Imad & Sonwara
Issue 2 Nov / Dec 2003
SONWARA
We were looking our best in our paintballing suits when we first met. All I remember is him standing in the corner drinking a cup of tea. I still remember that image to this day. He was standing there and my friend and I were talking and wondering who is that guy? Does he work in our office or what?... I saw him again a few weeks later at another work do, it was some theatre trip to a Shakespeare production, and then a month later he moved down to my office.
We became really good friends. We were working on the same project and were the same age group.
I wasn't a practicing Muslim at that time. Until I met Imad, I saw Islam as something my parents did, I didn't see it as being connected with my way of life.
It was Imad who encouraged me towards Islam. He would ask questions about the religion and I wouldn't know the answers so I would ask members of my family and they would give me tapes and books about Islam that I would pass on to Imad. We would end up reading and listening to them together. We never thought about marriage in the beginning, but as we learnt about Islam and realised we had strong feelings for one another it became clear the next step was marriage. Once we'd discovered how we felt about each other we knew we wanted to live as a married Muslim couple. He met my family and they were very welcoming.
He's great at DIY so my mum would get him to come round to fix the radiator or something or other. She always made sure she cooked enough for him when he came – he eats a lot – it was like having a reliable handy-man! My mum passed away about two years ago, and I remember we were told by the doctors not to give her any water, and my mum kept on saying, "wait till my Imad comes, he will give me water." She was used to her children marrying outside the Bangladeshi community – I have a Vietnamese sister-in-law and another is Portuguese. Even though they didn't speak the same language, they had a close relationship with my mum. I think my family are past that phase where race is an issue.
Imad was really supportive when I started to consider wearing the hijab. It took me a while and he was patient and never preached. We discussed it and he gave me enough space to figure it out for myself.
IMAD
We used to work for the same company, Sonwara was in the London office and I was in the Harwell office and we had a paintballing competition between the two. That was where we first met. I remember seeing this short dumpy loud girl wearing a ridiculous paintballing outfit, shooting at me!
Soon after, I moved down to the London office. We got to know each other and also learned more about the religion which lead us to develop a more serious outlook about where we were going and what we were doing. That's when we started thinking about marriage. I was sure, I knew she was the one I wanted to marry and I love her more as I learn more about her. She makes me laugh even when she's angry and stroppy and stomping around, but because she's so short she doesn't pull it off very well!
The story of how I came to take shahadah is actually quite funny. I knew the very basics, the five pillars and I went down to Regents Park Mosque to ask the man what was involved in becoming a Muslim. I wasn't quite sure if I was going to or not, I was going more out of curiosity and so I asked the Imam what did you have to do to become a Muslim. I think he took me far more literally than I had intended him to, so I ended up taking the shahadah then and there. But at the same time I felt that I was ready to.
Did I propose? I can't really remember much about how I proposed, oh, except we went to an Indian restaurant in Birmingham and there were televisions in the lavatories. That was quite memorable. This is making me sound really unromantic, but I do occasionally make romantic gestures and surprise her . When we first got married I would often buy her flowers.
Our wedding was in her brother's house. We wanted just family and a few friends as opposed to inviting a few hundred, so we kept it small. We had someone tell us the roles and responsibilities of the husband and the wife, and then he was going to perform the marriage, so he asked Sonwara if he could speak to her father, but her father wasn't there – he doesn't have much contact with the family as Sonwara's parents are separated and she hadn't even mentioned to him that she was getting married. So there were frantic phone calls trying to get hold of her father to get his permission. Finally someone spoke to him, he was probably a bit surprised she was getting married that very moment!
I have always had a good relationship with Sonwara's family, though coming from a somewhat dysfunctional English family consisting of mum, my brother and dogs, it was a little overwhelming to suddenly gain an extra two sisters and five brothers, not to mention an army of aunts, uncles, nieces and nephews, half sisters, step sisters and other relatives who I still cannot figure out.
The family were very accepting when we got married and Sonwara's mum and I became close even though we couldn't actually speak each other's language. We communicated with a few choice words – sit down, tea, eat and mosque.
My mum is fine about my embracing Islam. The only thing she has difficulty with is that we won't have wine with our meal. And when she visits us she can't quite understand why she can't have a glass of wine in our home after the drive down.
Coming to Islam has strengthened us as a couple and there is far more respect in our relationship. We work on our marriage because ultimately it is not only about the two of us but about our obligations to God. Our past experiences seem transient and selfish compared to what we have now. As Muslims we are encouraged to marry and to express ourselves within the boundaries of marriage. It is a myth that Islam is a repressive religion as in fact it nurtures and celebrates love between two people within the context of marriage. My love for Sonwara led me to Islam, and we've grown together in our faith, and I'm grateful for it.
Share this


Link to this
Printer Friendly