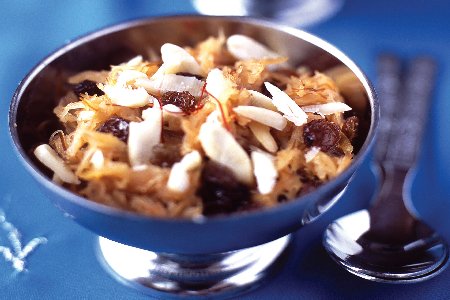 Iftar ideas....
Issue 2 Nov / Dec 2003
Sweet Vermicelli
A traditional flavoursome dish with almonds and sultanas.
Ingredients:
4 tbsp ghee
125g fine vermicelli, cut into 1 inch long
pieces
750ml hot water
pinch of saffron
100g caster sugar
100g sultanas
100g blanched almonds, chopped
4 tsp ground cardamom
1. Fry vermicelli in ghee until golden brown.
2. Add hot water (be careful when adding water), saffron, sugar and cardamom.
3. Turn heat down low. Cover and simmer until vermicelli is cooked.
4. Add sultanas and almonds, stir well and cook uncovered until liquid is absorbed.
5. Serve warm with cream.
Hareira soup
A spicy and heart warming soup which is quick and simple to make.
Ingredients: Serves 6
2 onions, chopped
2 cloves garlic, minced
1 inch piece of ginger, grated
1420ml water
200g red lentils
1 can of chick peas, drained
1 can of cannellini beans, drained
1 can of chopped of tomatoes
2 carrots, diced
2 sticks of celery, chopped
1 tsp garam masala
1 1/2 tsp ground cardamom
1/4 tsp ground cayenne pepper
1/2 tsp ground cumin
4 tbsp of tomato puree
4 tbsp of olive oil
Handful of coriander to garnish
1. In large pot, gently brown the garlic, ginger and onions in the olive oil with the spices.
2. Add the rest of the ingredients. Bring to the boil for a few minutes and then simmer for 30 – 60 minutes, or until lentils and carrots are soft.
Lamb Biryani
Ingredients: Serves 4
For lamb stock:
450g diced lamb
(cut into about 4cm pieces)
2 medium onions, chopped
1 tsp salt
900ml water
3 tbsp ghee
For onion paste: 1 large onion, chopped
1 inch piece of fresh ginger, peeled and
chopped
1 clove of garlic chopped
For rest of dish:
450g basmati rice
3 tbsp Ghee
2 medium onions: 1 chopped - 1 sliced
1 inch stick of cinnamon
1 bay leaf
5 green cardamom
1/2 tsp cumin seeds
2 cloves
1 tsp rose water
pinch of saffron
warm water
Directions for lamb stock:
1. Wash meat well under a cold tap.
2. Brown meat and onions with ghee.
3. When meat has a deep golden colour add water.
4. Bring to boil.
5. Cover, reduce heat and allow to simmer for 60 – 90 mins until meat is almost tender. 6. Strain through a sieve, put stock and meat and onion in separate containers. Meanwhile wash rice thoroughly till water runs clear. Soak in plenty of water.
Directions for rest of dish:
1. Put ingredients for onion paste in food processor and grind until it's a smooth paste.
2. Heat ghee in a large heavy based saucepan,
add one roughly chopped onion and fry until golden brown.
3. Add onion paste and whole spices until the mixture is a pale golden colour.
4. Then add meat and onions from stock. Fry until all ingredients are a deep golden brown.
5. If the meat sticks add 2 tbsp of water
6. Drain the rice in a sieve and let it stand for a minute.
7. Cover the meat mixture with rice.
8. Add the lamb stock so it covers the rice by
2.5cm (add extra water if necessary).
9. Cover with a close fitting lid.
10. Reduce heat and allow to cook for about 20 minutes (during this time do not open lid) until rice is cooked.
11. Remove lid sprinkle rose water, replace lid
quickly and cook for a couple of minutes.
12. Infuse saffron in 10 tbsp warm water.
13. Remove lid and pour infused saffron water over rice.
14. Cook rice for another couple of minutes until water has been absorbed.
15. Turn off heat and leave rice covered for a couple of minutes.
16. Remove lid, gently fork rice.
17. Meanwhile fry the finely sliced onion until golden brown and sprinkle on top of dish. Serve with yoghurt and cucumber.
Share this


Link to this
Printer Friendly