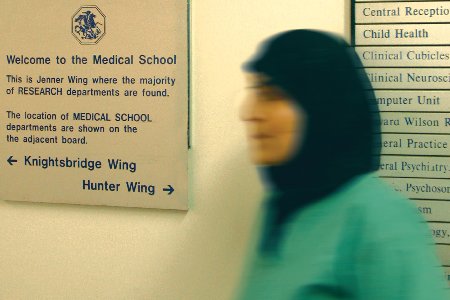 On the Wards
Issue 2 Nov / Dec 2003
Since emerging as a profession in the late 19th century, nursing has come a long way and has proven an attractive career option for many Muslims. Shaheen Kasmani decides to find out more about the caring profession.
The number of roles within modern day nursing itself is huge, and offers a large variety of working environments. As a nurse, it is possible to work in hospitals, GP surgeries, clinics, nursing and residential homes, occupational health services, voluntary organisations that run hospices or residential care. Nurses can also work in the prison service, university education, on leisure cruise ships, or for the armed forces.
Nasrin Khan has been a nurse for over 20 years, and has just completed a degree in primary care, qualifying as a nurse practitioner. Since the age of nine, Nasrin had aspired to become a nurse. She arrived from Pakistan with her family, and remembers being cared for in a Chelmsford hospital after being suspected of suffering from TB. "The nurses that looked after me were so kind and lovely, and I wanted to become a nurse from that moment."
As a nurse practitioner, Nasrin not only carries the usual responsibilities of a nurse, but also some of a GP – authorised to diagnose patients.
Nasrin works in a community practice, where most of the staff are Muslim, and due to its location, so are many of the patients. "It is really nice, because we all fast together, and greet each other and patients with salaam." But even whilst working in other practices, Nasrin has never faced problems due to her faith, "I have never experienced any grief from anyone whilst I have been working, and never any objections to my hijab, which I have been wearing for the past 12 years, even though 25 years ago when I was training as a nurse all this was unheard of and no concessions were made. But I have never faced any comments or objections."
The small but friendly practice in which Nasrin works is situated off a busy high street in East London. The calm and quiet of the surgery greatly contrasts with the colourful hustle and bustle only a few metres from the doorstep. Nasrin describes the benefits of working in a community practice: "It is very flexible." She explains, "I can work part time, and there is no shift work, night shifts, or uniform."
However, the current calm in the after-hours of the surgery do not always last. Nasrin emphasises, "It's a very broad profession, but can also be quite stressful. You have to be able to deal with anything that comes through the door." And the range of patients' problems is vast. It can be anything from women's health to chronic illnesses like diabetes, as well as the minor everyday illnesses. Although Nasrin admits that nurses do have to struggle at times, they are beginning to receive greater recognition. She loves her job and would not give it up for the world.
Furthermore, nursing can lead to a whole myriad of opportunities. "It is your passport to the world – nurses will always be needed, no matter where you choose to travel." Like any other 'people profession', nursing also has many other benefits. "Socially it is wonderful. You get to meet a whole host of different people. And from an Islamic point of view, for Nasrin, it has only helped to enforce her faith as a Muslim. "With age, seeing the worst of illness and suffering, my faith has become stronger. It has really made me thankful, fulfilled and reflective. After all, who can argue against the fact that the objective of nursing has stemmed fromIslamic principles, such as meeting with and interacting with people and helping them wherever possible, and providing comfort and care where it is needed most."
So how does Nasrin manage to balance her career and family? She finds that co-ordinating the responsibilities of managing a house and a demanding job requires help fromher teenage daughters, but it is also a credible and rewarding career choice for Muslim women.
Similarly, Nurse Sitara Abdool feels that a full time demanding career is a juggling act for a mother and is grateful for the flexibility nursing allows her. Specialising in care for the elderly, Sitara can choose her hours, and is eligible for concessions in the work place.
Since qualifying as a general nurse in 1976, Sitara has worked in the UK, Mauritius and Trinidad-which is her country of origin. She feels that such a variety of work experience has given her a much broader outlook, and exposed her to many different viewpoints from around the world. She has observed a range of nursing practices, and gained a wider scope of her profession.
Sitara's previous posts include a demanding role as Recovery Ward manager and a stint in the operating theatre: "Wearing hijab was never a problem, particularly in the operating theatre where we were required to be completely covered for hygiene reasons!" Like Nasrin, Sitara has rarely experienced problems with the uniform and the hijab; "Other nurses in the same hospital would wear their hijab during work, and it was not a problem."
So why did Sitara choose nursing as a profession? "Well, from a young age I was always curious about healthcare, and was interested in helping people." Nursing is a demanding profession, Sitara finds, "It is a vocation rather than just a job, and you are not in it for financial gain. You get great satisfaction knowing that you have done something for someone else and perhaps even eased their condition."
And what advice would Sitara give to those considering the nursing field? "You have to be passionate about people, about healthcare, and if you can't love this job, you just won't be able to do it. In some cases, your patient may be fully dependent on you. You will sometimes have to clean them, wash them, change them and feed them. Your patient will view you as their friend, their carer, and you must listen to them, understand them and do everything for them. Basically, you have to care enough to care about others."
Are You Interested in a Career in Nursing?
It is possible to take either a diploma or degree course to qualify as a nurse.
Adult nursing - The number of opportunities in this sector is huge. You will care for, support and educate people of all ages in hospitals or in the community.
Children's nursing – This involves working with 0 to 18 year olds in a variety of settings, from specialist baby care units to adolescent services. Learning disability nursing - Two to three percent of the population has a learning disability and nurses who qualify in this branch of nursing help them to live independent and fulfilling lives.
Mental health nursing - Mental health nurses work with GPs, psychiatrists and social workers to co-ordinate the care of people suffering from mental illness.
Funding - Those who undertake an NHS funded degree course receive a means tested bursary. Tuition fees are paid, but the grant allowance is means-tested.
For further information see www.nhscareers.nhs.uk
Share this


Link to this
Printer Friendly