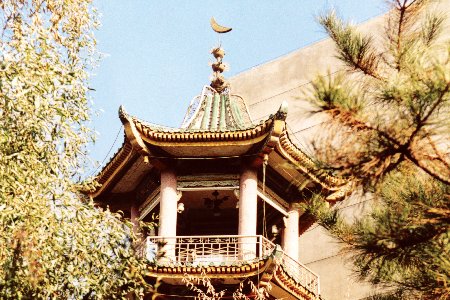 Destination China
Issue 2 Nov / Dec 2003
Yasmine Chaudhry explores the little-known Islamic heritage and discovers the fascinating depth of Muslim China.
photography Muhibur Rahman
Islam was introduced to China as early as the 7th Century (during the Tang Dynasty) when merchants from Arabia and Persia came to China to trade via the Silk Road. In AD 651, the third Caliph Uthman Ibn Affan sent an envoy to call on the reigning Tang Emperor Gao Zong, and since then Islam began to flourish across this region. In the midst of trade and cultural exchanges across the Asia-Europe continent for the next few centuries, streams of Muslim immigrants from central Asia settled permanently in China. They developed relations with local Chinese Muslim converts and established their faith, building mosques and schools and gradually creating a unique social unit. However, these exchanges gradually diminished during the Ming and Qing (Manchu) Dynasties and they came to a halt with the establishment of the Communist government. It was only in the 1980s under the leadership of Deng Xiaopeng that China slowly opened up to tourists from all over the world.
Today China has ten Muslim nationalities, totalling more than 30 million Muslims. They are the Hui, Uighur, Kazakh, Dongxiang, Khalkhas, Salar, Tajik, Uzbek, Baoan and Tartar. These nationalities have their own written and spoken languages and cultures and unique ethnic traditions. When the Republic of China was formed in 1911 the Muslims were recognised as a race in China. Now the Communist Government calls all Muslims the Hui race. The national constitution testified to the freedom of faith. Beijing has about 200,000 Muslims, Xian 60,000 and Shanghai 100,000.
The best way to explore Muslim China is through organised tours, one of which is Silaturrahim Tour. A non-profit organisation, Silaturrahim helps to promote cultural and educational initiatives and the proceeds from the tours fund projects in the rural community. According to Mariah Mah of Silaturrahim, "we are the only Muslim-owned agency in China organising tours for people who would like to see Islamic civilisation in China. Visiting a different mosque daily is part of our itinerary.
Historical Sites
To see some unique Islamic heritage in China why not visit the Dongsi mosque situated on Dongsi South Dajie. Built in 1447 during the Ming Dynasty, this mosque has undergone two large-scale renovations since 1949 and now occupies a land area of more than 10,000 square metres. There are 100 rooms within the mosque. It contains the only extant copy of the Holy Qur'an in Arabic hand copied in 1318 during Yuan. Dongsi mosque is the cultural centre of Muslims in Beijing and the Beijing Islamic Institute is also located there. The Haidian Mosque and Niujie Muslim district are also worth a visit
To the northwest and north of Beijing a huge serrated wall zigzags its way to the east and west along the undulating mountains. A trip to China will not be complete without a visit to the magnificent Great Wall - one of the eight wonders in the world. The Garden of Harmonious Interests is similar to the water towns of southern China. An elegant 700-metre-long corridor with exquisite colour paintings links the buildings and gardens together enabling tourists to more easily access the area. Located in Haidian District, some 12 kilometres northwest downtown, the Summer Palace is the largest imperial garden in the world. It is a veritable museum of classical Chinese garden architecture. At the centre of Beijing City is Tiananmen Square, home to Tiananmen Tower, Monument to the People's Heroes, Great Hall of the People, Mao Zedong Memorial Hall. See also a daily national flag raising ceremony.
Lying at the centre of Beijing, the Forbidden City, known locally as Gu Gong, was an Imperial palace during the Ming and Qing dynasties. Now named the Palace Museum, it is to the north of Tiananmen Square. Rectangular in shape, it is the world's largest palace complex and covers 74 hectares. Surrounded by a six metre deep moat and a ten-metre high wall are 9,999 buildings. The wall has a gate on each side. Opposite the Tiananmen Gate, to the north is the Gate of Devine Might (Shenwumen), which faces Jingshan Park.
It is said that Muslims during the 16th Century in China revolted against the Chin Dynasty. As a consequence the Emperor extradited them to the mountains in the Ganzhou province. Over the last four centuries, the barren lands changed into a thriving civilization primarily populated by Muslims.
About 200 km from the city of Lanzhou is Lingxia, popularly known as the Mecca of Muslims in China. More than a quarter of a million Muslims (95% of the local population) live in this beautiful city surrounded by tall mountains. With more than ninety mosques and many madrassas – this is a must-see for the Islam-conscious traveller.
Food
There are famous foods and snacks available in China, among them are
"He Zhou Dumpling" in the Linxia,
"Lanzhou Muslim Beef Noodle",
"Hand-Clutching Rice",
"Whole Bake Goat"
"Nang" (Pancake) in the Xinjiang.
There are numerous fruits such as peach and melon in the orchards of this region. The strong sunshine, sand earth and weather make the fruits produced here sweet and fragrant.
Shopping
Markets are an ideal place to search for inexpensive items. Markets with many similar shops or stalls have the cheapest prices and it is possible to sometimes find merchandise that is of excellent quality, and those brand names might just be genuine or they could just as easily be counterfeit. The prices are flexible and you should practise your bargaining skills there.
In China, friendship stores were originally set up by the government to provide services to foreign visitors. Now, most are like any modern department store with a variety of goods including silk jewellery made from gold, silver, pearl and jade; embroidered tablecloths and blouses; paintings, porcelain, pottery and handicrafts. Prices are clearly marked on the merchandise. Prices may be slightly higher than at other Chinese stores but the goods are of higher quality and some items are unavailable elsewhere. Government stores have a reputation for honesty and bargaining is acceptable. Most luxury hotels have their own shopping mall where various souvenirs and daily articles are offered. Stores in these hotels are not cheap but you could chance upon good quality clothing, fabrics and antiques.
Antique stores run by the government are the most reliable but you can forget bargains for genuine antiques. The Chinese are particularly knowledgeable about their cultural heritage and its value. Do not buy any antiques that date before 1795, as they cannot be legally exported. Make sure that the antiques you buy carry a red wax seal indicating that it is authentic and is able to be exported from China. Keep all purchase receipts, especially that of Chinese medicine herbs, antiques, gold and silver articles, jade ware etc. You may be asked to produce these by customs when leaving China. Do not buy those articles made form rare wild animals. All thecontraband articles will be confiscated without compensation. Note: In China, shops are open every day of the week: 8.30 am- 8 pm (summer), 9 am - 7 pm (winter).
Entertainment
The history of acrobatics in China can be traced back to Neolithic times. It is believed that acrobatics grew out of the labour and self-defence skills that the people practiced and demonstrated during their leisure time. Acrobatics is an interactive art form. Whether you are old or young, educated or illiterate, you can appreciate it as long as you can see. The displays transcend language and culture.
Where to stay
From walking the Great Wall of China, a casual stroll in the Imperial Gardens or after you have indulged in the fine cuisines of China you may want to rest at Capital Hotel, located on Qian Men East Street, a well known shopping and sightseeing vicinity of downtown Beijing. The Capital hotel is surrounded by a stunning landscaped garden, providing its rooms with a spectacular view of the city. Hilton Beijing is a refreshing retreat and has the cosy atmosphere of a boutique hotel along with a reputation for serving some of the finest food and beverage in town. If you've come to Beijing on a shopping trip, then Palace Hotel is recommended. The Palace is close to the main commercial, diplomatic and shopping areas.
Getting There
United Kingdom
Abdul Majid
M&M Tours Ltd
Fax: +44 - 01784 470 221
Tel: +44 - 01784 434 168
mmtoursltd@aol.com
Singapore
Mariah Mah,
Silaturrahim Tours
Fax: 65-444 4323
Tel: 65-241 2000
www.chinamuslim.per.sg
Share this


Link to this
Printer Friendly