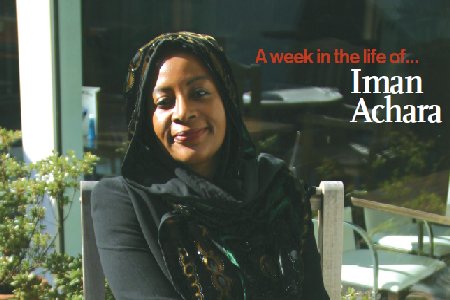 A week in the life of... Iman Achara
Issue 2 Nov / Dec 2003
Iman Achara, in conversation here with emel reporter Anfal Saqib, is married with two children. She is chair of the Genuine Empowerment of Mothers in Society (GEMS) a London based registered charity.
My working week revolves around my work for GEMS, which I set up when my youngest son was born prematurely. I spent a huge amount of time in hospital with him and found myself interpreting for some of the new mothers or, in other cases, even offering them informal advice and counselling!
I live in a very cosmopolitan part of London and this has inspired much of the work that I do. A typical working day in term-time finds me waking up at around 6 am to do my prayers. Then I get my five year old up, make his breakfast and get him ready for school. It is important to achieve that work life balance so I make sure we spend some time every morning doing something together. Then I'll take him to school and, unless I am going to a conference or meeting I will make my way to the GEMS office for about 9.30 am.
I spend an hour or so reading and responding to emails, invitations and general correspondence. Then all the GEMS staff will meet daily to discuss pressing issues, exchange ideas and decide our plan of action for the rest of the day. This meeting is very productive and I emerge feeling motivated and focused for the remaining day.
I spend the rest of the morning doing outreach work, visiting people who are affected by language barriers or women suffering from domestic violence. GEMS doesn't stop at helping women, we strive to make the family a stronger unit so our work can span anything from mentoring young offenders to parenting advice – to mums and dads!
I will then return to the office and deal with any enquiries and messages. At 2 pm I meet with a forum of women representing a range of policy areas and sectors for a 'power lunch'. This is a great opportunity to absorb and disseminate a whole wealth of information about initiatives that could be of potential relevance to people that come to GEMS for support.
Straight after the power lunch I will leave to collect my five year old from school as he is very particular that I do this. We will have dinner and then go to the park or to the library before leaving him with his babysitter. Then I'm back to the office to do some reading, analysing data or contributing to policy documents. I will also use this time to carry out any line management responsibilities.
I generally try to get home for about 8 pm unless I have a late meeting in which case my day can end at 9 pm. But as a rule I like to be home in time to watch the 10 o'clock news. As I spend so much time working with other people it is very important to me that I don't neglect my two sons and so I try to keep weekends as free as possible. Our weekends are generally spent taking my sons to visit museums or going to the theatre. I try and keep as engaged as possible in the things that my other son, who is 14, is into. He takes an avid interest in rap music and is doing some work to develop this skill.
I descend from the Ebo tribe of Nigeria so my childhood was very much focused around learning and determination. I want my sons to be able to keep these traditional values but at the same time I know it is impossible to distance myself from their reality so I do my utmost to keep abreast with them and be completely open.
As for my own spare time – when I have some - if there's one thing I love doing it is travelling! I have been to China for the UN conference on women and to Argentina to work with South American women. I also used to play table tennis many years ago and have recently started teaching 6-14 year old girls to play with a view to them competing in the 2012 Olympic games – if they are held in London!
Share this


Link to this
Printer Friendly