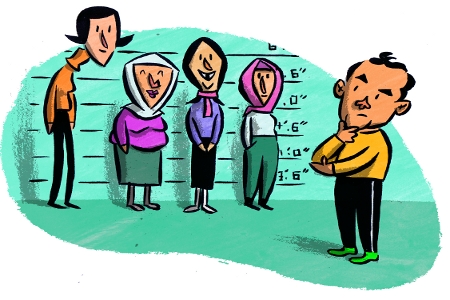 Amor in Andalusia
Issue 59 August 2009
So here I am in Granada, Spain on vacation, the centre of what was once the world's most advanced and multi-cultural Muslim cultures. I visited the old "Moorish" quarter, the Albayicin. It was as picturesque as all those overdone descriptions of small narrow, cobbled streets and white washed houses related. I think subconsciously I was hoping that I would meet one of the Muslim families in the area and some uncle or aunty would say, "Please come marry our daughter and take her back to America with you."
But, standing like a Spanish lemon in the middle of the old Muslim residential quarter, I found there were no Muslims in sight. I decided to walk around and wallow in my own pessimism. I climbed the sloping streets of the Albayicin to reach the point from which the Nasrid Alhambra palace can be seen perched atop a cliff at the other side of the city, and discovered a minaret with a bright Arabic banner wrapped around the top. I followed the street that winded around it and found a gate and a garden, where a young man stood looking at the view, and a hijabi sitting talking on the phone. I had no idea that there was a functioning mosque in Granada, and apparently it's very famous. Things were beginning to look up!
I walked through the gate and my Spanish came in handy. I introduced myself to the young man, who was apparently the door man. Everything I would say about myself was received by a "Mashallah hermano!" and sometimes "Mashallah amigo!" I was hoping he would say, "There are many families here who want you to marry their daughter and find a better life in America!" But of course, life looked just fine over here from the towering minaret and fancy garden to the giant community centre complex attached to the mosque. And anyway no one ever says "Please take our daughter to America for a better life" except in bad Bollywood movies. I went over the community centre attached to the mosque to meet all of the Spanish and Moroccan Muslim families who were standing around having lunch or drinking tea. To cut a long story short, as far as marriage prospects go, nothing came out of my initially exciting introduction to the growing Spanish Muslim community of Granada. My strategic attempt to walk into conversations or get to know families did not land me any connections or the chance of saying hello to a young female graduate Spanish Muslim who wanted to come to New York to do her PhD in Spanish literature (one of the various images or expectations I had constructed in mind).
For one thing, all of the Spanish Muslim ladies at the community centre attached to the mosque were either 15 or 40 years old. How is that possible that they could all be perfectly out of match for my age? The heavy representation of middle aged women and children, I am guessing, comes from the fact that a large percentage of the older generation had converted to Islam back in the 1970s and 1980s during the initial wave of leftist conversions to Islam in Andalusia that followed the fall of the fanatically nationalist regime of Franco. The late 1970s was a time when some of the Spanish who had grown tired of Franco's style of strictly Castilian nationalism began to embrace some of Spain's local cultures and traditions that had been forgotten or repressed during the regime, particularly the Catalan culture of eastern Spain. So, due to the fact Franco fell in the 1970s and not before or after, I cannot get married in Andalusia. The 40 year olds were those Andalusian converts, and the 15 year olds were their children, and the ladies in their 20s and 30s are either a smaller population or just decided not to show up to this little lunch gathering at the community centre today.
I headed out a few hours later with a bunch of email addresses and phone numbers of the very welcoming Spanish and Moroccan brothers whom I had met and who suggested that I visit again and get to know the community more. I never did get that line I was hoping for. I think I need to work on this whole 'living in reality' thing. A good way to start would be to get to know my own Muslim community in America better, rather than expecting to suddenly run into my romantic destiny in a weekend trip to Europe. I told the brothers I would come back, but of course I am heading back to America tomorrow. Going back to reality, and far from an Andalusian love story may not be such a bad thing.
Share this


Link to this
Printer Friendly