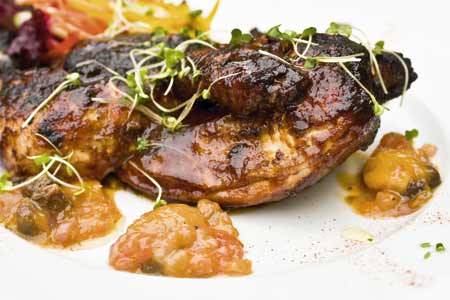 Guanabana
Issue 59 August 2009
85 Kentish Town Road, Camden
London NW1
Review by Myriam Francois-Cerrah
Camden has just added another cool venue to its list of trendy eateries, where you can chill out with friends during the late summer evenings. Guanabana is located on Kentish Town Road, and offers a shack-like experience, where halal Caribbean and Latin American food are served up in an eclectic décor combining postcards of Che Guevara, recycled wooden tables and, strangely, fairy lights. The scene is set for a relaxed dining experience which attracts the usual mix of Camden's arty clientèle as well as the discerning locals avid for a taste of high quality Latin or Caribbean food.
The restaurant does not serve alcohol (although it has a policy allowing customers to bring their own) and has an extensive list of mouth-watering mocktails, starting at £3.25 a glass, to enjoy as you pour over the menu. We sampled the home special, the Guanabana Berry Breezer, a combination of mixed berries, guanabana and lime, blended with crushed ice – the perfect quencher after a long day traipsing around Camden Market. For starters, we tried the Calamari rings with tartare sauce and the Flying Adobo, marinated chicken wings pan glazed in a sweet peppercorn and bay leaf sauce. All seafood is brought in fresh daily and this is clear upon tasting the calamari, which normally always runs the risk of being rubbery, but this seafood was nothing but deliciously succulent.
The chicken wings were also a hit, served in generous portions in a flavoursome sweet sauce they were meaty and utterly delectable. For mains, we opted for a house classic, the chicken fajitas, served with homemade guacamole, salsa, sour cream, cheese, refried pinto beans, sautéed bell peppers and onions on a sizzle plate with flour tortillas. My better half selected the Messy Mexican Burger, a 7oz home made char-grilled beef burger with jalapeños, guacamole, spicy salsa, sour cream, Spanish onion and hot pepper mayonnaise. The fajitas were a fun choice, not least because of the novelty factor involved in making your own, although at £9.25, I felt the side servings of dips were a tad small and the chicken could have benefited from some extra spice. The burger was, I am reliably informed, one of the best ever tried, though a little on the pricey side at £7.25, without any side dishes. We selected the sweet potato chips with sour cream to remain in keeping with the Caribbean theme, an interesting tongue-dazzler alternative to the usual chips.
Service is a little sketchy, a Camden tradition I am told, so our side order of salad never did turn up but we were too full to notice. For dessert, we sampled the home made fresh strawberry and white chocolate cheesecake, a tasty treat we barely had room for but at £3.75 a piece, we had hoped for a scoop of ice-cream to justify the price! The evening was wonderfully rounded off with a cherry shisha (£10), as we settled on the cushioned terrace to savour the summer air.
Guanabana is definitely a hip new addition to the Camden food scene. Despite only being a year old and in need of a few tweaks in service and pricing, Guanabana stands out for its original décor, delicious and well presented food and friendly atmosphere. It should also be applauded for moving halal food beyond the predictable curries and kebabs, into a new culinary world and doing so with style. A welcome mark to our food radar.
www.guanabanarestaurant.com
Share this


Link to this
Printer Friendly