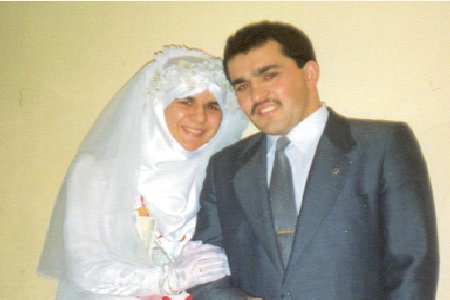 Keeping the Faith
Issue 60 September 2009
A reluctance to get married, work commitments and cultural differences might have hindered Handan and Bekir's union. But their complete trust in God helped them towards a blessed marriage.
Handan
"We were very different. In order to live together we had to address and accept our differences, and love each other."
It was at the age of 18 that I discontinued my education – because of the headscarf ban in my country, Turkey. Even though I was too young to think about marriage, there weren't many other options available for me. There was no one in my social circle who was a practising Muslim whom I could consider. But, as I had always given great importance to marriage, choosing the right person was essential as it would lead me to build an eternal life of happiness as well as a temporary one, here on the earth.
In May 1989, I visited my best friend who asked whether I would consider marrying one of her husband's friends. She told me what kind of a man he was a knowledgeable man working on good causes, living his life for the sake of Allah. I didn't even need to see him – I had already made up my mind. In our initial meeting, I didn't feel anything for him, it is impossible to feel emotionally attached from the first instance as you don't know that person yet. But I knew enough; I wanted to practise my religion, live according to the Qur'an and Sunnah, and please God with all my actions. I believed Bekir was the right person for me, someone who could walk alongside me on this road. I was still unclear of Bekir's thoughts, so when we met for the second time, I asked him directly whether we were going to get married or not. Although it is against tradition for a young girl to propose, it didn't bother me at all as I knew that Prophet Muhammad's first wife Khadijah asked him to marry her, so it was not wrong Islamically.
Someone once said, "Love is not looking into each other's eyes, but to look in the same direction alongside each other." I have chosen someone to marry by putting my trust in God, even though I had only known my husband for a short period of time. The differences weren't stronger than what we shared in common. I know I chose correctly, as I listened to the Prophet Muhammad's advice on this matter. Our wedding day was simple but very nice. I was over the moon with happiness. Whilst my family, including my dad, were crying, I couldn't help but smile. We left for Ankara on the same night. We had next to nothing in our new home, but that wasn't important for me at all. We are two very different people living under the same roof. In order to live together we needed to address and accept our differences, and love each other unconditionally.
When I look back, I could see that at the age of 20, I wasn't ready for marriage, but Bekir was patient with me all along. People can find countless reasons to share an enjoyable life together. Again, we might have countless reasons to separate from each other as well. It is important to have strong ties between each other, in order to melt the differences in a pot of love.
I didn't have any high expectations of marriage; if you don't expect too many things in life, you will have less of a reason to be disappointed. Then you can enjoy the experiences you share together, even the simplest things together without expectations. I learned more about myself over the years, as well as appreciating my husband now as a mature person.
He is trustworthy, someone I can lean on for everything, someone who I could go anywhere with, even to the moon! Our relationship grows as we grow, I always see my marriage as a great blessing from God
BEKIR
"After our second meeting, Handan asked me to marry her. I responded positively of course!"
One hot June day in 1989, I was invited to a friend's house in Ankara. He began to tell me about one of his wife's friends who he thought would be an ideal partner for me. After suggesting that I ought to meet her at his house, I accepted. Within the first hour of talking together, Handan and I had already discussed various issues concerning our ideal partners, our likes and dislikes. The main subject that we focused on was our Islamic ideas on marriage, as the Prophet said: "A woman may be married for four reasons: for her property, her status, her beauty, and her religion; so try to marry one who is religious."
As Handan was a religious woman, she wished to marry someone who was religious too. But I had just graduated and I was busy focusing on my charity work. There had already been opportunities for me to be introduced to other girls, but none went according to plan. Marriage was in fact the last thing on my mind. My aim was to fi nd a job in one of the government departments which required an entrance exam. So, I spent most of my time preparing for them. But my friend was persistent, and encouraged me to meet Handan. Initially, I was hesitant about meeting her due to the fact that she was from another region of Turkey, and people of that region are quite different from where I was raised. These differences caused some degree of uncertainty in me, but they we not enough to prevent me from marrying her, as we were both practising Muslims and our aims and objectives about family and contributing to society were quite similar.
So, there was a strong feeling that we had to follow the Prophet's instructions, which encouraged us to marry someone for their religious strength. I had to put my full trust in God. After our second meeting, Handan asked me to marry her. I responded positively of course! I bought a ring for her and we were engaged. On 23rd December 1989, with the help of our parents, a simple wedding reception took place at Handan's neighbour's house in Mersin. Guests were offered a simple meal and traditional Turkish sweets.
As I recall, it was a freezing cold winter and the roads were very icy, but I did not notice any of this at the time. By the time we reached our home in Ankara, the snow had covered the ground, turning everything white. When she woke up in the morning, Handan was shocked because she had never seen snow. Personal differences are inevitable, no one can escape them. But I tried to look at it from a positive angle.
Marriage is a learning process; I learned how to live with someone, and to take that next big step in life – having children. We are two individuals from different regions in Turkey with varying traditions, even eating habits. But all I wanted was to build a loving home with a strong centre for us and our children. A mutual understanding of Islam guided us as to how we were going to build this home. What I respect most about Handan is that she has always been supportive of me.
She is the mother of our four children and an important figure in our home. I know that I am quite a difficult person to live with, because I am set in my ways, but she still wants to live with me after 20 years. I find this more admirable than anything on this earth.
Share this


Link to this
Printer Friendly