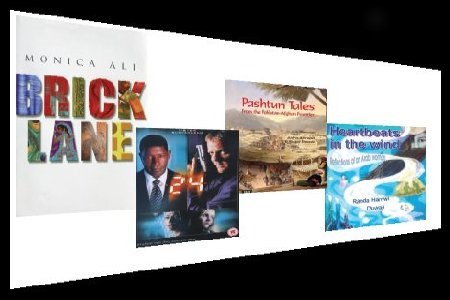 Reviews
Issue 2 Nov / Dec 2003
Books
Brick Lane by Monica Ali
Set across two continents and spanning 35 years, Brick Lane is an ambitious, adventurous, utterly captivating first novel by Monica Ali, named one of Granta's Best of Young British Novelists 2003. Weaving her tale around events real and imagined, Ali builds a vibrant cast of characters and offers them up to the burgeoning tensions and stark realities of life in London's East End at the end of the 20th Century; juxtaposed with episodes from post-colonial Bangladesh.
Central character Nazneen is the "girl who was left to her fate " when born prematurely in her village in Bangladesh. Fated to survive, she is married off to Chanu and taken to live as a young bride amongst the expanding Bangladeshi community in Tower Hamlets. At first it seems that only the landscape outside her window is changed, as the community retains the language, customs and social mores from home; but external forces inevitably work on the community, forcing reaction and change which manifests itself in very different ways amongst the diverse characters of the plotline.
Whilst the people of Tower Hamlets are by turns retaining, resurrecting or rejecting traditional customs, life in Bangladesh does not stand still. Ali's narration of Nazneen's life is interspersed with letters written by her wayward sister Hasina, a runaway bride and fallen woman making her own way – and describing her own life – in Dhaka.
The contradictions within and tensions between the Bangladeshi and English population, first and second generation immigrants, husband and wife, parent and child are all explored in a style and pace which entices you to delve into their lives, forcing the reader to embrace each individual within the community, not to see the community as a conglomerate mass. Beautifully observed, Ali's characters seem almost to come alive on their own, responding uniquely to the trials of their specific lives. Ali describes a vibrant community, but explores the intricacy of individuals, and in so doing challenges generalisations based on race, religion, age, and gender, in the world at large. Moving, engaging and enlightening, this is an accomplished novel by an author with a promising future. Read it!
Heartbeats in the Wind: Reflections of an Arab Woman, Randa Hamwi Duwaji
Review by Isla Rosser-Owen
Damascus-born Randa Hamwi Duwaji, the daughter of a diplomat, has travelled extensively throughout her life and as such finds herself in the unique position of being caught, yet comfortable, in the middle of "three cultures" – Arab, Muslim and American. As all of these three things, Randa seeks to promote understanding between worlds in all that she does, not least through her poetry. Particularly of concern is to bring the emotions generated by the Palestinian crisis to a Western audience; but no less was she affected, as an American, by the trauma of 9/11.
Most recently, on September 24th 2003, her dedication to the 'Deir Yassin Remembered' campaign – named after the 1948 massacre – was seen in the unveiling of the first ever US memorial to Palestinian victims. This unique bronze sculpture of an uprooted olive tree – made by Arab-American artist Khalil Bendib – rests upon a pedestal bearing a plaque, which includes a Haiku written for the occasion by Randa Hamwi Duwaji. At the official unveiling, she also recited a longer version of her poem, Never Again Shall We Forget: "Lan Nansaa". Dedicated to "tolerance", Heartbeats in the Wind is the second anthology of poems to stem from the hand of the multitalented Mrs Hamwi, who has also published children's books and a collection of short stories, and who is also a prolific painter. Heartbeats in the Wind passionately reflects her varied identities, of which we see glimpses spread out over four elegant sections: Love and Loss, Introspection, Inspiration, and Arab Heart.
This is an emotionally-charged and beautiful anthology, sometimes seen through her own eyes and sometimes through the eyes of children or a loved one taken away, in which religion and experiences of life – and especially of life as an Arab – are recurrent themes.
Also of importance is the theme of humanity as a whole, and most of these poems, although perhaps inspired by her own experiences or by tragedies from Palestine, are ones which we can all relate to. She writes of our common existence, of our shared experience. In her Epilogue, she asks this: "Where is this unmarked grave? Does it matter? We should be able to feel the same empathy wherever this human voice comes from, for only with the strength of one united conscience that sees humanity on an unmarked human plane can we work effectively to prevent the tragedies we wreak upon ourselves."
As a former student of English Literature, Randa Hamwi uses various styles, forms and influences in her poems that are both traditional and some of the more imaginative. At once moving and refreshing, tragic but full of hope, this life-enhancing little collection is not to be missed.
Heartbeats in the Wind is available from Amana Publications (www.amana-publications.com) or from www.amazon.com. More information about Randa Hamwi's campaigning can be seen on the Deir Yassin Remembered.
website:www.deiryassin.org
Pashtun Tales by Aisha Ahmad and Roger Boase
Review by Yvonne Ridley
It's hard to imagine life before radio, television and the Internet came hurtling into the 20th Century. Intruding into almost every facet of modern-day living, you might well wonder how people kept themselves entertained before Thomas Edison invented the light-bulb. Well, I've found out. People were entertained by gossip, fabulous tales and tall stories ... the best of which came from the tribal areas straddling Pakistan and Afghanistan.
Now, thanks to some painstaking research by Aisha Ahmad and Roger Boase, some of these stories have been preserved for posterity in a book called Pashtun Tales. I think there's a very good chance it will revive the art of storytelling and the proof of the pudding, as they say, is in the eating.
I took my copy of the book with me during a recent journey through the tribal areas of Pakistan and deep into Afghanistan. Since most of the entertainment there is self-generated, there was a great deal of fascination and curiosity as I poured through the pages of Pashtun Tales. And so, during many of the stops on my journey, I would read several of the stories contained in the book. From Peshawar to Paktika, these tales would be verbally translated into Urdu, Pashto or Dari by a guide in the company. The book became so popular that it now rests in a guesthouse in Kabul where travellers weary of television or radio, can entertain themselves in a more traditional way.
Each story is a pure delight and most originate from the tribal areas of the Pakistan-Afghan border, a region well known for its hospitality. Many of the tales have been generated over the centuries by travellers using the caravan routes from Persia, India and China and this is reflected in the content and characters. The book is a compendium of pure delight, hilarity, wonder and entertainment, which should be enjoyed by readers and listeners of all ages and cultural backgrounds.
There is an excellent glossary of terms at the back, plus academic references, for those who wish to know more about the origins of words and terms peculiar to the Pashtuns. Apart from keeping alive tales which could so easily have been lost without trace, the authors are to be congratulated for capturing and preserving forever the wit, fantasy, humour, chivalry and romance which can still be found among Pashtuns. Modern-day living may be eroding their way of life, but the Pashtun code of honour will hopefully survive, and maybe even the art of story telling will be revived. The book certainly livened up a few evenings across the tribal areas of Pakistan and Afghanistan for my companions and me.
Television
24
Review by Jonathon Peacock
The second series of the hit drama '24' recently finished its run on BBC2, and has proven to be just as gripping, intelligent and unpredictable – not to mention gory - as the first.
The premise is a resonant one which may seem an uncomfortable perpetuation of stereotypes – a radical Islamic group called Second Wave, have obtained a nuclear device, possibly with the aid of several middle-eastern governments, and plan to detonate it in Los Angeles. Yet the mature script and complex storyline fail to pander to simplistic caricature as in this atmosphere of mounting paranoia and xenophobia. We follow the efforts of agent Jack Bauer (Kiefer Sutherland) and his Counter-terrorism team to track down the device and those responsible.
In a grim echo of recent events, we also see the pressure that is put upon President David Palmer (Dennis Haysbert) to take decisive military action - crucially, the fictional President is strong enough to resist the clamour for military retaliation without conclusive evidence against the countries implicated in this threat of mass destruction. Palmer refuses to risk committing America to an unjust but popular war, even at the risk of sacrificing his own prestige and Presidency.
In the course of the investigation, we are given an interesting treatment of American assumptions about Middle Eastern politics, as well as prevailing prejudices about Arabian individuals. As panic grips the States, vigilante mobs go on the rampage, looking to attack Arab- Americans and immigrants alike, while on the governmental level there is an equal willingness to believe the worst of Islamic nations and ask questions later.
Some elements of the show did jar – for instance, in its efforts to stay unpredictable, the plot does sometimes veer towards the unbelievable. It seemed that every episode, Jack's daughter Kim (Elisha Cuthbert) faced a different unlikely menace (including attack by cougars), for no discernable reasons of the narrative. Like much of even the best American television, sometimes the show indulges in the sentimental, such as one characters' heroic death, and some of the relentlessly noble Palmer's rhetoric.
But these are minor complaints. As in the first series, every episode covers the events of one real-time hour, each building to its own climax while driving the pace of the larger story along irresistibly. If you are after an intricate and compelling plot, with well-crafted characters, a keen eye for political realities, and another twist around every corner, you cannot do much better than this.
The second series of 24 Hours has just been released on DVD
Share this


Link to this
Printer Friendly