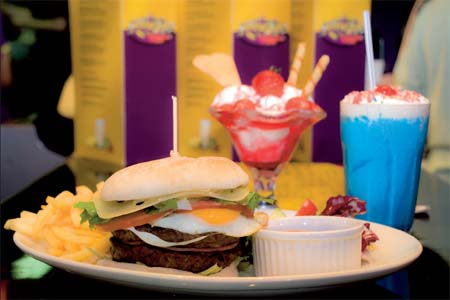 Restaurant > Rock-It Diner
Issue 60 September 2009
Restaurant
Rock-It Diner
Mile End Road
56 Mile End Road
London E3 4PL
Review by Robi Chowdhury
Rock-It Diner is an authentic American eatery hidden in the underbelly of Mile End. With its purple leather interior, matched with black marble flooring, the diner offers plenty of comfortable seating space, along with a separate area on the upper floor that caters for parties and events. Somewhat rarer for Muslim restaurants but something that should be acknowledged and encouraged is that Rock-It Diner has a small prayer room available for customers should they require it.
The menu boasts a range of tempting milkshakes and sundaes, with the food hardly on any level to disappoint either. With the odd quirky film reference, (The five dollar milkshake or Scooby Doo burger anyone?) and original recipe names, we struggled with deciding what to order.
In the end, we went for what most people would indulge in at any American diner: the burgers and the milkshakes. Within 15 minutes of ordering, we were served chicken wings coated in barbecue sauce and cooked to perfection. I ordered what was called a 'Fat boy' burger consisting of a fried egg, turkey, blue cheese, hummus and an assortment of salads. The beef was succulent, and the blue cheese added a melt in the mouth touch, definitely an original burger variety.
The menu doesn't only boast a goodburger range, it also offers fajitas, pastas and pizzas, and includes a kid's menu with the tempting 'Popcorn chicken'. Beyond the surface of a stylised American diner (which includes a juke box) lies a high end food establishment. Upon speaking to the Manager Akhtar Hussain, we discovered that the chef serving us had worked in eight Michelin starred restaurants. This was evident, with the impeccable presentation and the high quality of food. Rock-it Diner has undergone a major new marketing drive aimed at many of the local students coming in for iftar. A special Ramadan iftar menu has been developed that fuses traditional dishes with contemporary modern touches.
As well as all of this, they also contribute to a number of charity projects, with proceeds aiding Muslim Aid and a number of other charitable organisations.For an all American halal experience from the comfort of East London, try out Rock-It Diner. Chances are that you'll end up going again.


Share this


Link to this
Printer Friendly