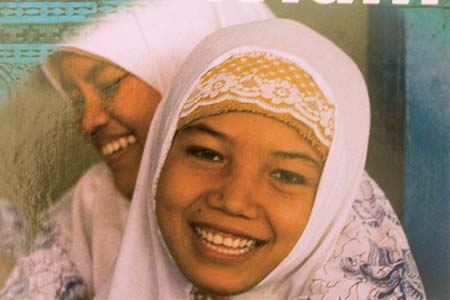 Book Ramadan Moon
Issue 60 September 2009
Book Review: Ramadan Moon
Author: Na'ima B Robert
Illustrator: Shirin Adl
Review by Ayman Khwaja
This beautifully illustrated children's book follows the moon's development during the sacred month of Ramadan. Seen through the eyes of a child, Ramadan Moon educates children on the spirituality of the blessed month through its rituals to its spirit of unity, charity, compassion and family values.
Ramadan Moon presents an eclectic mix of illustrations by awardwinning illustrator and designer Shirin Adl, capturing the far-reaching range of Muslim cultures all around the world, intertwining scrapbook -inspired illustrations using shimmery foil, floral patchwork, Qur'anic verses, traditional costume and embroidery, to create images of families praying together, breaking their fast together and going to the mosque together.
This creative and rhythmical book will engage children aged between three and eight years to truly capture the magic of the moon and what it represents in the holy month. A fantastic pre-Ramadan gift to introduce children to the concept of fasting in Ramadan; they will be thrilled with excitement for the month ahead.
Share this


Link to this
Printer Friendly